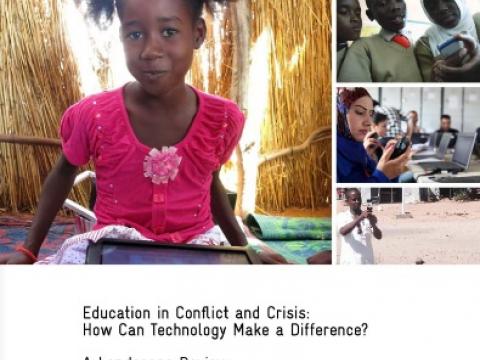 Education in Conflict and Crisis: How Can Technology Make a Difference?
Monday, May 9, 2016
Conflict and crisis are among the biggest obstacles to ensuring inclusive and quality education for all (Sustainable Development Goal 4). The use of information and communication technology (ICT) has the potential to support, enhance, and enable education for the most marginalized, affected by war, natural disasters, and the rapid spread of disease.
On behalf of the German Federal Ministry for Economic Cooperation and Development (BMZ) and in a collaborative effort with All Children Reading: A Grand Challenge for Development (USAID, World Vision and the Australian Government), World Vision International (WVI) and the Inter-Agency Network for Education in Emergencies (INEE), the Deutsche Gesellschaft für Internationale Zusammenarbeit (GIZ) has commissioned this Landscape Review with the aim to identify major trends, patterns, knowledge gaps and lessons learned about the use of mobile technologies in crisis and conflict settings and synthesize key themes and considerations for practitioners and policy makers in this field.
We hope that this Landscape Review will further engage the community in peer-to-peer learning and collaboration to drive promising programs to scale, and create pathways through education, to reach greater numbers of conflict and crisis affected children.
For more information on World Vision's ICT4E work, please visit our Education Technology web page.
For more information on World Vision's Education in Emergencies work, please visit our web page.