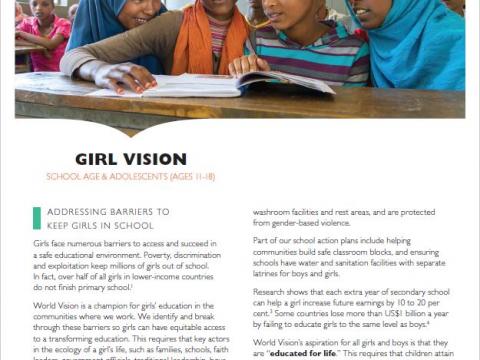 Girl Vision
Friday, March 3, 2017
Addressing barriers to keep girls in school
Poverty, discrimination and exploitation keep millions of girls out of school. In fact, half of all girls in developing countries do not even finish primary school. Girls face a slew of barriers to their access and success in a safe educational environment, causing a disparity in outcomes when compared with boys.
World Vision is a champion for girls' education in the communities where we work. We identify and break through these types of barriers in girls' lives so they can have equitable access to a transforming education. This requires involving key people in the ecology a girl's life and community such as families, schools, churches, governments, traditional leadership, boys and men—and the girls themselves—understand the value of education in girls' lives.
We are committed to empowering girls to identify and tackle hindrances affecting their school attendance and abilities to learn so they finish their secondary school education and reach more goals for their lives.
Learn more about our Girl Vision project model by downloading our quick guide.