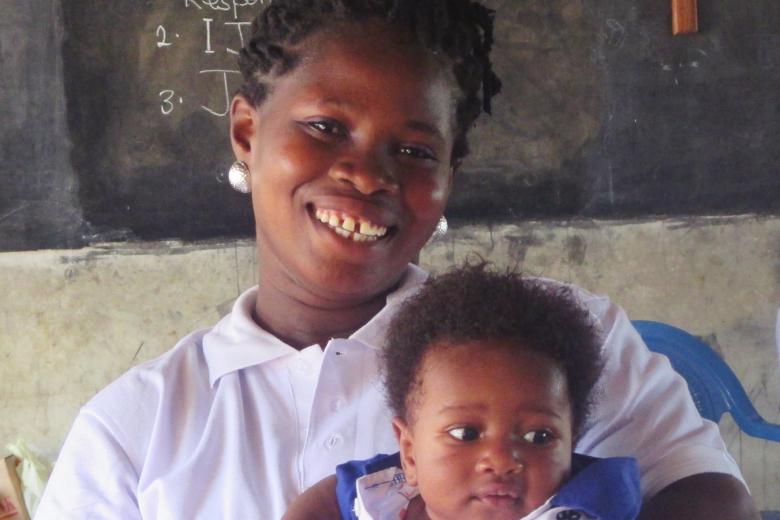 Savings Group Empowers Community in Ghana
Monday, June 8, 2015
'Ke eko ato' (literally meaning Save some) Savings Group is a group of men and women in the Kashiekuma community of the Amasaman district within the Greater Accra region. The group was trained on savings programme by World Vision Amasaman Area Development Program (ADP). This 30 member Savings Group elected five leaders and wrote a constitution that governs them. They then started the process of saving as a group by buying shares of GH¢ 5.00 ($1.21) a day but limited to a maximum of 5 shares in a week. Each member of the group also has an opportunity to take a loan with an interest of GH¢ 1.25 ($0.30) per share. The process goes on for a full year and at the end of the year, the then group meets to do a share out of the savings and interest that has been accumulatted over the year after which another cycle begins.
Some members of 'Ke eko ato' savings group in a pose with WV staff
Most of the people in Kwashiekuma are peasant farmers who do not have enough money to cater for their children's educational needs during the planting season. However, the savings and loans programme has taught them how to save. The advantages of the loan scheme is being able to get a loan to pay for their children's school fees when needed and being able to buy school materials when school reopens even in the planting season. The loan scheme has helped members of the "Ke Eko Ato" Savings Group to keep their children in school. 
Members of the 'Ke eko ato' Savings Group said they were excited about the fact that any member in need could take a loan from the group. Mabel Nyarko, a group member said "I wasn't working but when I joined the 'Ke eko ato' Savings Group, I was able to take a loan from the group and start petty trading and now I am able to support myself and my three months old baby. God bless World Vision for coming to educate us on savings and loans which has been a great benefit to us and the community".
The group has therefore decided to save for two years instead of the normal one year cycle to gain more interest that will be used to start a community savings and loan bank. The chairman, Mr. Mills noted if they are able to achieve their goal of establishing a bank, it will bring about employment opportunities for the youth of the community.  
Mr. Mills said "Just about a year ago at a time when we were going through financial crisis, we didn't have money to pay our children's school fees, clothe them or pay for extra classes, a group from World Vision came to our community and encouraged us to save by making group contributions." Residents of Kwashiekuman expressed how grateful that World Vision took an interest in their lives by teaching them basic financial services to help them manage their lives.