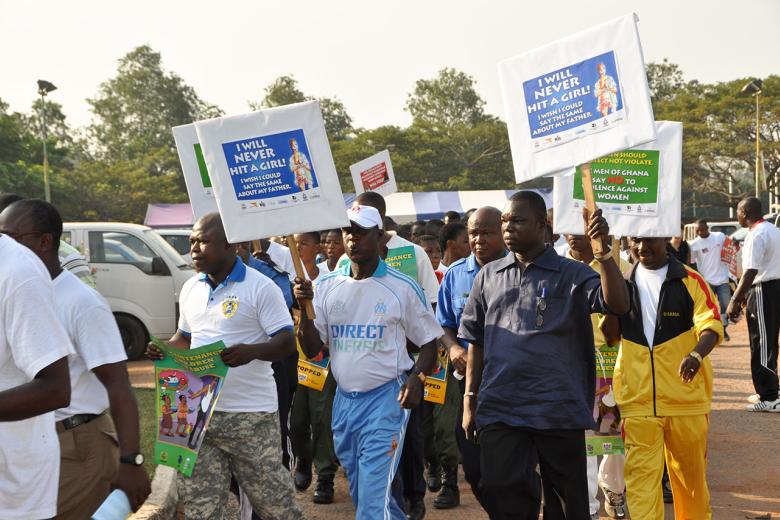 Taking a stand against gender based violence
Wednesday, September 26, 2012
 Emelia's art work is startling. 
A sponsored child, the 17-year-old Emelia created a piece of art that depicts child abuse.
 "The day my father would stop beating my mother, salvation will come to our home," she explains, while talking about her artwork.
 Violence against women and children in Ghana is rampant. One in every three women is affected by family violence. Over 109,784 cases of domestic violence have been recorded in Ghana's capital city of Accra alone within the last decade.
Violence in Epidemic Proportions
Today, the situation seems to be getting worse for both women and children.
 Sexual violence, rape, incest, sexual harassment, trafficking for sexual exploitation and physical violence are widespread. Cultural practices which include child marriages, female genital mutilation, Trokosi (sexual slavery), violence against elderly women accused of witchcraft, widowhood inheritance grabbing and the denial of widowhood rights are also common. 
 Eight-year-old girls feature prominently in brothels in the cities of Accra and Kumasi and in most major towns in Ghana. Promised large sums of money, families who often live in the north of the country send their daughters to the big cities. Only later do the girls learn that they have been lured into prostitution and slavery, abused by pimps and fellow boys.
Cases of human trafficking have been reported in the news on a consistent basis. Yet, the problem continues with over 120 child brothels in Accra alone.
Another disturbing trend has been the recent murder of elderly women accused of witchcraft. Six people tortured and poured kerosene on 75-year-old Ama Hemah, setting her on fire and burning her to death. Even if widows are not killed, in southern Ghana widows are often blamed for the death of a family member and isolated from the community. 
 Other women have been murdered by their husbands, some from acid wounds and battering.
 Female entrepreneurs have also been robbed of millions of dollars while going to markets, with some maimed for life.
World Vision Intervenes
World Vision Ghana joined advocates from all over the world to call for a great reduction or complete elimination of violence against women and children, during the 16 Days of Activism against Gender Violence Campaign. 
World Vision staff marching in the demonstration calling for an end to violence against women. Photo by Emmanuel Arthur.
During the campaign, World Vision staff marched in a demonstration that encouraged men to be advocates against violence against women. During the demonstration, people carried placards and banners, some of which read, "Denounce Violence Against Women Now!" and ""Real Men don't RAPE".
 World Vision was joined by other non-governmental organisations, law enforcement officers, churches, schools and government officials.
After the event, the participants signed a pledge acknowledging the important role men play in stopping gender-based violence and acting as role models for other men.
"It is critical that we as a nation do something urgent about the situation. It could be anybody's mother, grandmother or daughter. Violence against women and the girl child affects men as well as women. It affects the family, the community and the nation. As men, we call upon other men and male leaders to publicly speak out, and to join in this global call to protect Ghanaian women and children from all types of gender based violence," the pledge stated.
The 16 Days of Activism Against Gender Violence is an international campaign observed from November 25, which is International Day against Violence Against Women to December 10, International Human Rights Day.
As well, during the 16 Days of Activism Against Gender Violence, World Vision, in partnership with other communication agencies, screened films to rural communities. The films aimed to sensitise people on issues of witchcraft, sexual abuse of children, human trafficking, sexual exploitation, negligence of the upbringing of children and domestic violence in homes and households.
By Faustina Boakye