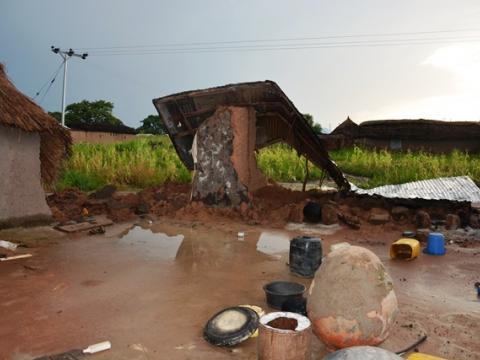 World Vision Begins Response In Northern Ghana
Saturday, October 13, 2018
Story by: Jason Amoo 
Photo credit: World Vision/Jason Amoo
World Vision has begun response procedures in northern Ghana where about 50,000 people are displaced due to floods. This follows preliminary investigations by government agencies after heavy rains compounded by the spillage of the Bagri dam in neighbouring Burkina Faso destroyed property, forced families out of their homes and submerged farms in 368 communities in the Upper East, Upper West and Northern regions of Ghana.
The flooding which began on 15th August, 2018 affected 52,903 people including 31,265 children with a total number of 15 deaths recorded. Over a month on, the water is yet to recede.
Like Ahmed Dramani, a resident of Kukobila in the Northern region, most displaced persons are seeking shelter with family members. According to him, he has had to distribute members of his household to live with other people. He is currently sharing a room with seven other people at his family house. The heavy rains demolished his entire home. His family barely made it out alive thanks to calls by neighbours who alerted them of cracks that were occurring on their building during the rain.
He explained "I quickly grabbed my wives and children from the other rooms and took the little we could before the structures collapsed. All of our food and harvested farm produce were trapped and destroyed. I am very down and have nothing. What I would have considered as my savings is my farmland and everything has been swept off by the floods".
Most victims recount similar experiences, especially those living along water bodies that overflowed their banks.
"The water has destroyed everything; you cannot even access your farm without a canoe. The water on my rice farm rises to my chest when I stand in it. Now we are just living and waiting for help"          said Abdulai, a farmer who also lost everything.
Those who could not find shelter with family members and neighbours have taken up in school buildings.
At the Nakpanzoo Zayon primary school, 99 people have made their home. When school is in session, they all pack their belongings into one classroom designated by school authorities and move them back to spend the night when school is over. With no food available, they harvest unripen groundnuts from nearby farms to feed themselves and their children.
NADMO (National Disaster Management Organisation) brought us bags of rice earlier and the Member of Parliament for the area also came to distribute some items but weare yet to receive the items distributed by the Vice President" noted Alimatu, a mother of four who lives in the school.
Alhassan Sulemana, Municipal NADMO Director for Savelugu/Nanton admits the support they have given is not enough and NADMO continues to visit and assess the situation. "We don't have a place to relocate them so we are appealing to NGOs and government to help us provide shelter for them because the school has reopened and they can't be here with the children" he added.
World Vision International, Ghana's emergency response team is currently assessing the situation to determine what kind of support the organisation can offer. "Öne of the areas we think we can help is looking at the water systems. We noticed some of the boreholes have been submerged and  that has implications. Right now they are drinking from the ponds so it will be good to give them some chlorine that can help treat their water. We also think that we need to help them with food because they left their houses with nothing" said Samuel Gmalu, HEA/Security manager for World Vision International, Ghana.
Timothy Akanpabadai, Northern Regional Operations Manager for World Vision International, Ghana further explains, "we are assessing if these facilities have been contaminated or not and once we detect the contamination levels then we go in to treat. Another are we are so concerned about are collapsed latrines that were constructed by the communities. We are hoping that there won't be an outbreak of diarrhoea, cholera and other water related diseases"
World Vision Intends to start providing support in the next few weeks in selected communities.