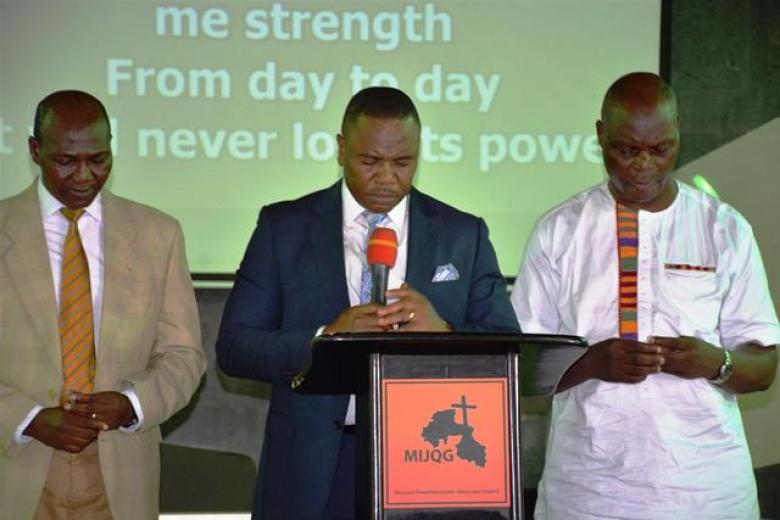 World Vision Ghana Holds Day Of Prayer
Monday, October 8, 2018
Photo credit: World Vision/Jason Amoo/Silas Owusu
World Vision International, Ghana has held its annual Day of Prayer to mark the beginning of the new fiscal year. The event brought together World Vision staff, Vision Fund, Shared Service, Students from St. Sylvanus Basic School and partners from across the country. The event was held in both the Northern and Southern operations of World Vision International in Ghana.
In a message that centred on the theme, "Above All…Love", the main speaker, Rev. Dr. Kofi Ahlijah stated, understanding the theme for the fiscal year was very important since it had everything to do with the day to day activities at World Vision as well as relations with colleagues, family and friends.  
"Because God loved the world he was willing to freely give his only begotten Son in order for us to be saved, thus, it can be said that love is not love until love is given and shared. Telling people you love them is not enough until they experience the love" he said.
"World Vision has done a good job over the years and I entreat all stakeholders to go the extra mile in their quest to show love to the most vulnerable children, even if it means loving the unlovable since that is the only way to reconcile them with Christ" He added.
The board chair, Baba Mahama, who spent the day with the Northern Operations, said being in WVI offers staff ministry duties though they are not in cassocks as priest or pastors while emphasising that without love they cannot emulate what the founder, Bob Pierce, did with only 5 dollars about 65 years ago. 
"Bob Pierce's work or act of love has resulted in us attending to over 35million children and their families worldwide because he expressed love for a child" He stated.
"Let's remember, One word initiated the process, sustained the process and will bring the process to a successful end. That simple, yet all-embracing word is Love. A short but powerful word which is described in 1 Corinthians 13 verse 13 as the greatest when compared with faith and hope" said the vice board chair, Efua Ghartey, when she also addressed the National office and southern Operations team.
She further explained "Friends simply put, freely have we received God's love, freely should we give. May we be mindful of this truth at all times and be excellent conduits of God's incomprehensible love."
The National Director, Dickens Thunde led the participants in the Southern region to observe a  minute silence for staff who passed away during the previous fiscal year from World Vision and the other from Vision Fund.  He then emphasized the relevance of the theme to us as Christians.
"I challenge you to re-examine your motivation and make love your sole motivation. The job is a ministry we have been called into and thus working for the transformation of lives should be our priority" he said.
The event was also an opportunity for staff to bond and strategize for the New Year. In groups, participants held "Promising conversation" on the theme "Love keeps its Promises". This was aimed at getting staff to relook at their promise to the most vulnerable people as required in their work and engagement with communities.
Part of the day's activities was writing letters to children, staff working in fragile context, Disaster Management staff and Supporters & Donors as a way of expressing love to them.
Day of Prayer is one of many activities that align with carrying out imperative 5 of 'Our Promise 2030' of "Living out our Christian Faith and calling with boldness and humility".