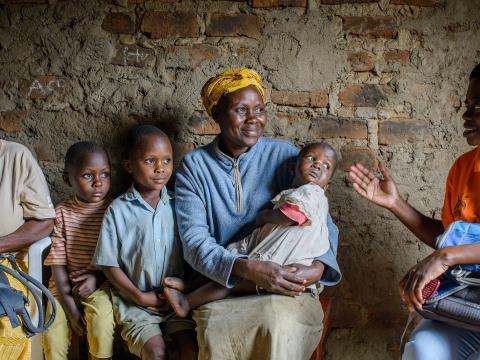 World Vision mHealth
There are more than 5 billion wireless subscribers globally with more than 70% of them in low and middle income countries. Mobile technology is ubiquitous, something that gives organisations like World Vision an unrivalled opportunity to improve people's health, especially in countries where access to healthcare is severly limited. 
Rapid advances in mobile technologies and applications, a rise in new opportunities for the integration of mobile health into existing eHealth services, and the continued growth in coverage of mobile cellular networks has proved a powerful combination. Our health, nutrition, water and sanitation, and disaster management experts are all using digital technology to help ensure life in all its fullness for children in the communities with whom we work.
Our Key Partnerships
THE PROBLEM: Despite progress in reducing child mortality in the past two decades, treatable conditions such as diarrhea, pneumonia, malaria and malnutrition remain the leading causes of death among children under the age of five in low-income countries.
OUR SOLUTION: Collaboration between Action Against Hunger, Terre des hommes and World Vision International has led to the conception of AleDIA : An alliance for the development of an integrated e-diagnostic solution to improve the quality of health services in low resource settings. The first product to be launched will be an adaptable, digital solution aimed at reducing childhood mortality. This digital solution, based on the integration of IMCI and CMAM protocols and existing mobile applications, will address the most deadly childhood diseases and manage acute malnutrition to reduce child mortality.
Our Key Initiatives 
This approach has been launched in 11 African and South or Southeast Asian countries. This solution is currently available to support the following Project Models or approaches:
Click here to learn about this game-changing initiative and get information about country deployments that support our Maternal, Newborn and Child Health and Nutrition programming. 
World Vision offers innovative distance learning courses that target development workers who implement programmes. Aligning with World Vision's Global Health and Nutrition Strategy, the online training prioritises reduction in malnutrition (especially the areas of stunting and maternal and child anaemia) and focuses on practical applications to ensure that nutrition skills are applied in the field. Click here to learn more.
Spotlight on mPosyandu - mNutrition in Indonesia
Contact
For more information, please feel free to contact our World Vision experts: 
Sherrie Simms | sherrie_simms@wvi.org
Director | Information & Communication Technologies for Development (ICT4D)