It Takes Nepal To End Child Marriage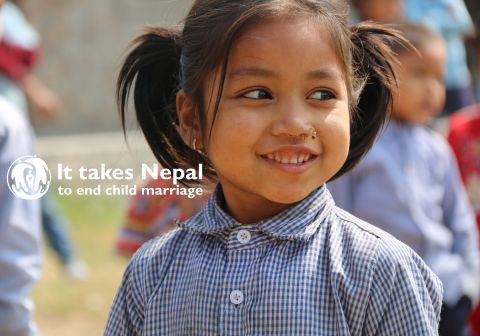 One of the grim realities Nepal faces today is child marriage.
UNICEF's The State of the World's Children report, 2016 has ranked Nepal among the top ten countries for child marriage. Nepal ranks third, after India and Bangladesh, in South Asia, according to that report.
Child marriages result from a web of factors including poverty, lack of access to education, child labour, social pressures, and harmful practices,  gender inequality, and damaging social norms that make girls less valued than boys in Nepali society. It deprives those involved, especially girls, of education and health, the chance to learn skills and grow leaving them more vulnerable to domestic violence trapping girls and their families in a cycle of poverty.
The government has taken some good steps to end child marriage in Nepal, making it illegal in 1963. Ending child marriage is a target under Sustainable Development Goals 5.3 and 16.2 and in 2016, the Nepal Government endorsed a National Strategy to End Child Marriage in Nepal by 2030. This is a positive step, but much work needs yet to be done. An action plan to implement the strategy is due and investment along with broader partnerships are required to bring about the necessary changes to end the practice in Nepal.
To address the gaps  and with a goal to reduce child marriage in Nepal, World Vision International Nepal  has joined hands with Association of Community Radio Broadcasters Nepal to run a five-year nation-wide campaign from 2017-2021. The campaign titled "It takes Nepal to end child marriage" was launched by Right Honourable  President Bidya Devi Bhandari and attended by high-level dignitaries and children on 10 August 2017.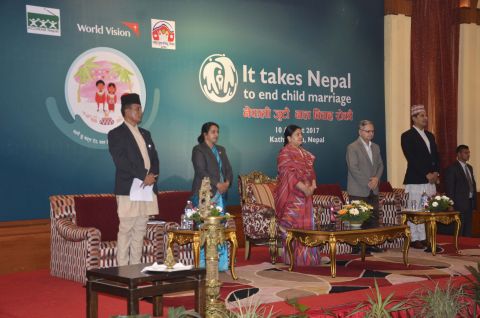 Campaign outcomes 
Strengthened legal and social system for protection of vulnerable women and children from local to national level
Increased resilience of community including children for better protection of women and children from gender-based violence and abuse
 Multi-sectoral response to end child marriage
The focus will be on empowering children and working closely with government, civil society, private sectors and communities to bring an end to child marriage in Nepal. 
The campaign activities have been integrated into the existing programmes of World Vision International Nepal and will supplement the organisation's ongoing work on strengthening systems that protect children; raising awareness and challenging harmful practices so that the children of Nepal can look forward to a future where they can fulfil their potential and the potential of this country. 
RESOURCES
Click here to download the campaign factsheet in English and Nepali 
Click here to read child marriage stories from Jumla and Morang Districts
Click here to download the Discourse Book on Child Marriage
ACHIEVEMENTS
Click here to read how we are working with local government bodies to end child marriage in Morang District
Click here to read how Nirma's child marriage was stopped in Morang District.
Click here to read how Parvati's child marriage was stopped in Morang District.
Click here to know about how we are collecting 10,000 voices and commitments against child marriage through 'Bees Pachi Bihe'.
VIDEOS
Nepali filmstar Reecha Sharma speaking on child marriage
Global Youth Advocate for SDGs Sanjog Thakuri speaking on child marriage
Nepali filmstar Dayahang Rai speaking on child marriage 
Capturing 10,000 voices with radio programme 'Bees Pachi Bihe'