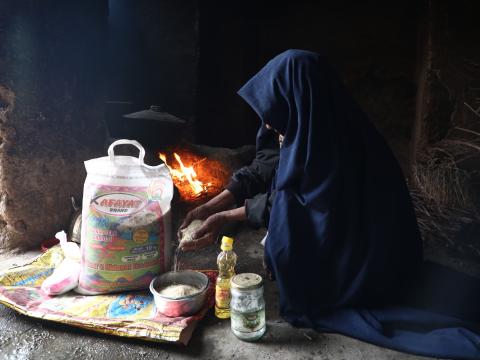 Afghan Children Need Urgent Assistance, Not Withdrawal
Tuesday, August 15, 2023
Two years since the Taliban returned to power in Kabul, international organisation World Vision is declaring a new Sustained Humanitarian Response in Afghanistan.  
National Director Asuntha Charles says: 
"International support for Afghans in the greatest need has fallen off a cliff, but we are committed to stay and deliver for Afghanistan's children. Many are literally starving: they must have our support to fulfil their most basic needs and secure their most fundamental right: to life itself. 
"While the international focus has been on egregious human rights violations, particularly affecting women and girls, the number of those in need of humanitarian assistance has increased from 24.4 to 29.2 million people. 15 million Afghans will face 'crisis' levels of food insecurity this year with 2.7 million in the 'emergency' category, the fourth highest figure in the world. This is the result of decades of conflict, the proliferating impacts of climate change, and a highly dysfunctional economy following international disengagement. 
"Meanwhile, international support for Afghanistan has plummeted. Nearly US$3.8 billion in 2022 had dwindled to US$967 million at the start of August 2023."  
National Director Asuntha Charles added: 
"The Taliban authorities have increasingly constrained the work of organisations, but even if their edicts were reversed today, the resources provided by the international community fall desperately short of what is needed.  
"Nevertheless, in the first half of this year alone, World Vision Afghanistan reached 1,160,914 of the most at-risk Afghans in western Afghanistan, including 605,156 women and girls and 557,160 children. Their work included health and nutrition provision, support for WASH, protection of vulnerable children and adults, and education support." 
ENDS 
Notes to editors 
World Vision is the world's largest child-focused development organisation, active in over 100 countries. World Vision began emergency relief operations in Afghanistan in 2001, addressing humanitarian needs of children and their families affected by conflict and natural disaster. Over 22 years later, World Vision Afghanistan continues to partner with communities to provide humanitarian response alongside early recovery, resilience, and development initiatives in the western provinces of Herat, Ghor, Badghis and Faryab. World Vision Afghanistan programming prioritizes maternal and child health, nutrition, WASH (Water, Sanitation & Hygiene), livelihood and food security, education, child protection and multi-purpose cash programming. World Vision works in collaboration with communities holistically to respond, comprehensively meet basic needs, and promote recovery, resilience and community development. 
For further information or to organise an interview, please contact Mark Calder: mark.calder@worldvision.org.uk +44 7877 243509, +964 7511 281203