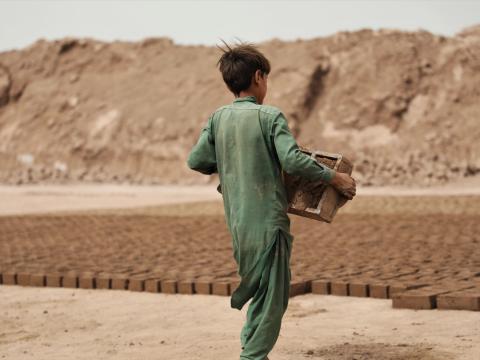 Children in Afghanistan will die from starvation unless International community intervenes – World Vision
Thursday, August 11, 2022
53%, of Afghan children in surveyed regions are acutely malnourished.

7 out of 10 boys and over half of all girls surveyed have to work instead of going to school.

64% of births are carried out alone, with no skilled medical assistance
12 August, 2022 – International aid organisation, World Vision, today warned that Afghanistan's forgotten children are at risk of starvation, forced child marriage and child labour unless the international community responds immediately,
World Vision's report, entitled, Afghanistan: A Children's Crisis, was produced a year after political transition, and surveyed over 800 parents, caregivers and their children, to investigate how their lives have changed one year later. 
The report found that in surveyed areas the mean income for a household is less than a dollar a day (USD $0.95) and that over half (53%) of surveyed children were classed as acutely malnourished;
"Parents and caregivers are facing devastating situations. Their children are starving so they're left with no choice.  They must either send their children to work or arrange child marriage to ensure their survival This is a choice no parent should ever be forced to make" said Asuntha Charles, National Director for World Vision Afghanistan.
The report found that in order to help support their families, 7 out of 10 boys and over half of all girls were sent to work rather than attending school and fifty seven percent of caregivers reported that their children have missed school.
"Children are experiencing significant mental health issues as a result of recent changes.  Sixty six percent of the parents we spoke to shared that a child in their care had demonstrated signs of psychosocial distress," said Ms Charles. The World Vision report also found that Afghanistan's public health system is in crisis and is creating significant risk for women and children. Sixty-four percent of babies are delivered at home, and less than a third of births are attended by a skilled professional.
The report also highlights that the contraction of maternal, new born and child health services and the reduction of trained personnel rolls back years of progress.
The NGO warns that this is very likely to contribute to a rise in infant and maternal mortality.
"While governments and decision makers around the world have prioritised other emergencies the children of Afghanistan have been forgotten. Economic sanctions on the country have a clear exception for humanitarian aid and not all governments are funding this important work. Too many Afghan children are at risk of early death. Those who survive are no longer going to school, are starving and are being forced into child marriage and child labour. It is time for world leaders to remember these children, and ensure they, like every child in the world, should have the opportunity to play, to learn, to strive and to have the opportunity to live life in all its fullness.
"Recent years of progress made in Afghanistan is at risk of being lost, in the face of what some are classing as the world's worst humanitarian crisis, exacerbated by the volatility of political, economic and climate events.  We are calling on the international community to take the necessary action, in order to support Afghanistan's people in recovering from the humanitarian and childhood crisis they are currently enduring. "
To read the report, please visit here.
ENDS. 
Notes to Editor  
World Vision is a Christian humanitarian and development organisation dedicated to working with children, families and their communities to reach their full potential by tackling the root causes of poverty and injustice.   
World Vision serves all people, regardless of religion, race, ethnicity or gender.  For more information, please visit www.wvi.org or follow us on Twitter @WorldVision .  
World Vision began emergency relief operations in Afghanistan in 2001, addressing humanitarian needs of children and their families affected by conflict and natural disaster. Over 20 years later, World Vision Afghanistan continues to partner with communities to provide humanitarian response alongside early recovery, resilience, and development initiatives in the western provinces of Herat, Ghor, Badghis and Faryab. World Vision Afghanistan programming prioritizes maternal and child health, nutrition, WASH, livelihood and food security, education, child protection and multi-purpose cash programming. World Vision works in collaboration with communities holistically to respond, comprehensively meet basic needs, and promote recovery, resilience and community development.
Afghanistan: A Children's Crisis provides an analysis of recent data on the humanitarian situation in Afghanistan and combines it with new primary research from four provinces – Herat, Ghor, Faryab and Badghis – along with the testimonies of children and their families, who describe, in their own words, how the worsening situation in Afghanistan is impacting them.
Representatives of World Vision Afghanistan are available for interview. For further information or to organise an interview, please contact: Leah Donoghue, Director - Communications and Advocacy for World Vision Middle East and Eastern Europe at Leah_Donoghue@wvi.org