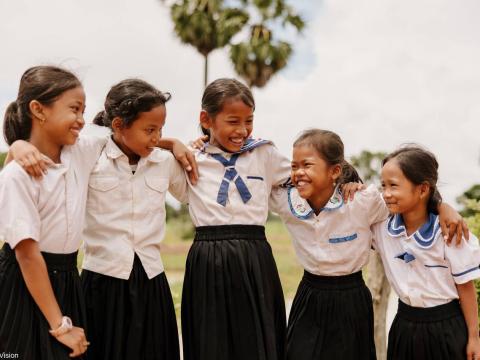 World Vision International in Cambodia Reaches 1.3 Million Children In 14 Provinces and Phnom Penh
Friday, June 2, 2023
In 2022, World Vision International in Cambodia (WVI-C) worked closely with Local Authorities, partners and communities to support the Royal Government of Cambodia's COVID-19 recovery efforts - focusing on the most vulnerable children, youth and their families. Throughout the year, WVI-C positively impacted more than 4.5 million people, including 1.3 million children, across 14 Provinces and urban Phnom Penh.
Priority sectors for WVI-C during the recovery phase include Integrated Nutrition (child feeding, WASH, Hygiene and Livelihoods), Education, and Child Protection and Participation. In addition, cross-cutting issues such as Disaster Risk Management, Implementation of the Social Accountability Framework (ISAF), Gender Equality, Disability and Social Inclusion (GEDSI) were integrated across the programming.
In order to increase the number of children who are healthy and well-nourished, the Integrated Nutrition Programme takes a three-prong approach: child-feeding, access to WASH and improved economic resilience. In 2022, the Programme - (1) built the capacity of over 1,600 Village Health Support Groups who counselled caregivers of over 10,000 children on improved feeding techniques; (2) provided access to essential drinking water and latrines for over 60,000 people; and (3) with a focus on women, supported the formation of, and/or strengthening of, 57 agricultural cooperatives and 49 producer groups to increase the livelihood and economic resilience of families through farm-based and agricultural approaches.
To support students who had lost almost two academic years of education due to school closures during COVID, WVI-C worked closely with the Ministry of Education, Youth and Sports (MoEYs), to reach more than 186,900 children (91,500 girls) through their Education Programme. Remedial packages for early-grade children combined with reading camps, teacher capacity building and improved access to books were methods applied to support catch-up.
Supporting the Ministry of Social Affairs, Veterans and Youth's (MOSVY's) Action Plan to End Violence Against Children, WVI-C engaged and trained almost 25,000 children in protection-related life skills; supported 500 child-led initiatives and 237 youth/adolescent projects aimed at addressing violence against children; trained around 12,000 caregivers in positive parenting and supported the formation and capacity building of commune-based child protection groups. At the National level, WVI-C contributed to the revision of the operational guideline on child protection in schools: - the guideline was launched on June 23, 2022 by the Ministry of Education, Youths and Sports.
World Vision was among the first International Non-Governmental Organisations responding to the flood emergency in October 2022 reaching more than 2,100 flood-affected families (including 4,345 children) through our multi-sectorial relief interventions including food security, WASH, Hygiene kits, Non-Food-Items and Child Protection Awareness. To support preparedness efforts, WVI-C implemented community-based disaster risk and management (CBDRM) and Safe School Framework (SSF) programmes to improve the capacity of community partners to protect, care and strengthen the resilience of the communities, especially the most vulnerable children, from the impact of disasters occurring in the communities.
WVI-C continued to support the strengthening of service provision through the Implementation of the Social Accountability Framework (ISAF) in 530 communes. ISAF empowers local communities to hold service providers accountable and supports service providers to achieve minimum standards.   410 Health centres, 2,400 primary schools and almost 300,000 citizens and officials took part in activities that strengthened local service provision in 2022.
Janes Imanuel Ginting, Country Director of World Vision International in Cambodia, recognizes the importance of collaboration to achieve these results: "I express our genuine appreciation to all communities, and caregivers, our field staff, community partners, volunteers, donors, supporters, development partners, and the Royal Government of Cambodia for all commitments to work together for the well-being of the children. These all achievements are our JOINT results."
World Vision International in Cambodia's Annual Report 2022 is available in both English and Khmer for viewing and download on our website: https://www.wvi.org/publications/annual-report/cambodia/annual-report-2022
Note to Editors:
World Vision International is a Christian relief, development and advocacy organisation dedicated to working with children, families and communities to overcome poverty and injustice. World Vision serves all people, regardless of religion, race, ethnicity or gender World Vision commenced work in Cambodia in the 1970s. Working closely with Government ministries, local partners and community groups, we collaborate with communities to improve the lives of Cambodian children, especially the most vulnerable children, in three key areas; integrated nutrition, education, and child protection and participation.
World Vision currently works in 14 provinces and Phnom Penh City and the new strategy envisions working up to 23 provinces in the next five years. For more information, please visit: www.wvi.org/publications/cambodia
CLICK HERE to download Khmer version.