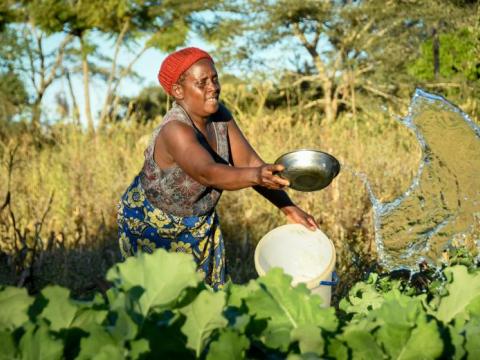 World Vision Zambia calls for more investment to accelerate change in Zambia's water sector
Wednesday, March 22, 2023
For Immediate Release
Monday, 22nd March 2023, Lusaka. World Vision Zambia has called for more investment in the water sector to accelerate change and ensure equitable access to safe drinking water, sanitation, and hygiene for all by 2030, in line with the United Nations Sustainable Development Goal 6.
World Vision Zambia Water, Sanitation and Hygiene (WASH) Technical Programme Manager Mr. Maybin Ng'ambi says this year's World Water Day theme, 'Accelerating Change in the Zambia water sector through partnerships and cooperation,' requires more commitments and investments to speed up the process of water provision to people, especially the vulnerable children in rural communities.
"Working with other partners, World Vision Zambia has since 2022 provided clean water to 275,948 people in communities, 50 healthcare facilities, and 130 schools," said Mr. Ng'ambi. "We need more investments to build on these numbers because the need is huge and more vulnerable children need water and proper sanitation and hygiene."
He said the strategic partnerships established with the government of the Republic of Zambia under the Ministry of Water Development and Sanitation, Water Utility Companies, and Private Insurance Companies, World Vision has leveraged its resources to reach more people with access to WASH services in rural and peri-urban areas.
The WASH Technical Programme Manager, said World Vision Zambia as the largest provider of WASH services after the Zambia Government, has since 2022 constructed and installed 144 piped water systems, 582 hand pumps, renewed access by rehabilitating 240 water points constructed by other organisations.
"Our target is to finish the Job everywhere we work and ensure clean water, sanitation and hygiene for everyone, everywhere we work, by 2030," said Mr. Ng'ambi.
At the National level, World Vision Zambia has been participating in the development of the National Water Policy and also participating in the Joint Water Sector Review which aimed at measuring coverage of water supply, sanitation, and environment. At the district level, the organization has engaged various Government Ministries in the development of District Universal Coverage Plans.
-End-
World Vision Zambia
For further details, contact:
Sally Namutowe
Local Fundraising and Communications Associate Director World Vision Zambia
P.O. Box 31083, Great East Road, Lusaka
Email : Sally_Namutowe@wvi.org
 About World Vision Zambia                                                                                                                           
World Vision began working in Zambia in 1981 with three community development projects in Northern Lusaka. Today, World Vision Zambia Limited (WVZL) works in over 50 districts across ten provinces to serve vulnerable children and communities in the country.
Through Area Programmes (AP) and grant projects, WVZL focuses on key areas of education, health, livelihood, water and sanitation, child protection, and spiritual nurture. Children are at the heart of our work. With a workforce of over 500 professional staff and an annual budget of approximately US$40 million, WVZL works closely with communities, partners, and the Government of the Republic of Zambia to ensure vulnerable children live life in all of its fullness.
For more details about World Vision Zambia Limited, visit (https://www.worldvision.co.zm/ , htps://www.wvi.org/zambia)