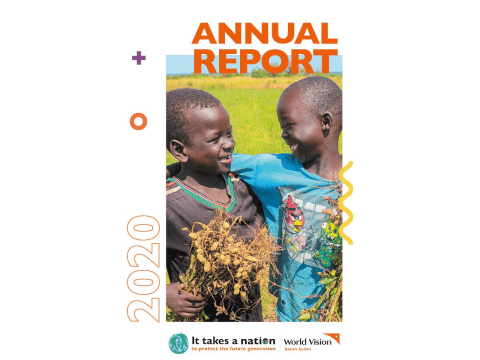 2020 Annual Report - South Sudan
Tuesday, January 26, 2021
Despite the challenges posed by COVID- 19, ongoing sub-national conflicts and natural disasters such as flooding that affected over one million people, World Vision was able to reach over 2.4 million South Sudanese people through various lifesaving and livelihood interventions.
Over 2.3 million people were assisted and reached with COVID-19 campaign, 43% are most vulnerable children.

Over 100,000 people reached through It Takes a Nation (ITAN), mine risk awareness campaigns and support for children associated with armed forces and groups.

Over 1.1 million people reached through livelihood and food assistance support integrated with protection and safeguarding.

Over 600,000 people reached through WASH ser vices and behavior change programming and campaigns.

Our engagement with faith actors was able to help reach out to remote areas to achieve community risk reduction in pandemics under Ebola and COVID-19 outbreaks.