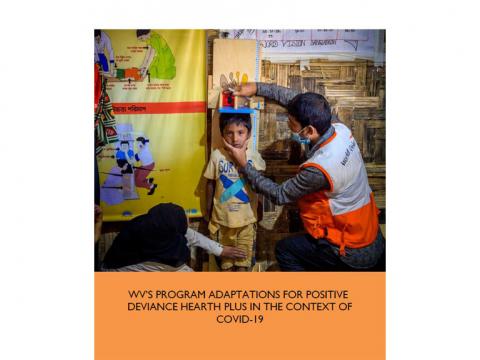 Adapting Positive Deviance Hearth Plus in the context of COVID-19
Wednesday, June 17, 2020
While available evidence on COVID-19 infections shows that children are generally seen with milder symptoms, we do not yet know how it will affect wasted children. It is reasonable to assume that severely wasted children are at a higher risk of COVID-19 related pneumonia and that nutrition service provision may be interrupted during COVID-19 outbreaks. In addition, with the increase in food insecurity and number of people experiencing acute hunger expected to double due to the COVID-19 pandemic, it is anticipated that there will be an increase in the number of severely wasted children.
As a result, it is even more essential to continue providing community-based nutrition services in times of COVID-19 while considering adaptations for specific contextual barriers and bottlenecks in each geographical area and/or country. World Vision's priorities for management of malnutrition in the context of COVID-19 is three-fold:
Increase coverage of prevention interventions such as decentralizing nutrition screening or growth monitoring and promotion (GMP) (early detection) and providing Infant Young Child Feeding (IYCF) counselling.
Strengthen and adapt Positive Deviance/Hearth (PDH) for rehabilitation of underweight children and in some settings, to rehabilitate wasted children without medical complications if management of wasting services are not available, yet food security exists on the most part.
Sustain and adapt existing services for the early detection and treatment of child wasting (refer to WV Management of Wasting in context of COVID-19: Program Adaptations CMAM Programs)
This publication looks at these specific areas and provides resources/guidance to be able to continue to provide nutritional support during the COVID-19 pandemic. Please use these recommendations in conjunction with local guidance/regulations.