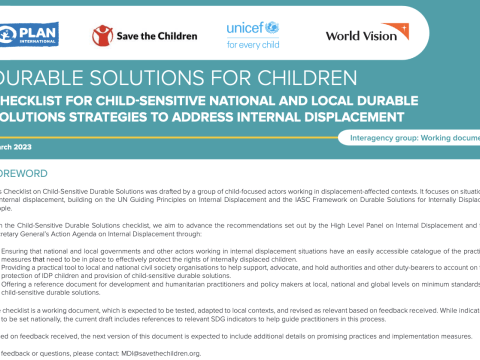 Durable Solutions for Children: Checklist for Child-Sensitive National and Local Durable Solutions Strategies to Address Internal Displacement
Thursday, May 11, 2023
This Checklist on Child-Sensitive Durable Solutions was drafted by a group of child-focused actors working in displacement-affected contexts, focusing on situations of internal displacement. It aims to:
Ensure national and local governments have a catalogue of practical measures to effectively protect the rights of internally displaced children.
Provide local and national civil society organisations with a practical tool to support, advocate, and hold authorities to account on the provision of child-sensitive durable solutions.
Offer a reference document for development and humanitarian practitioners and policy makers on minimum standards of child-sensitive durable solutions.