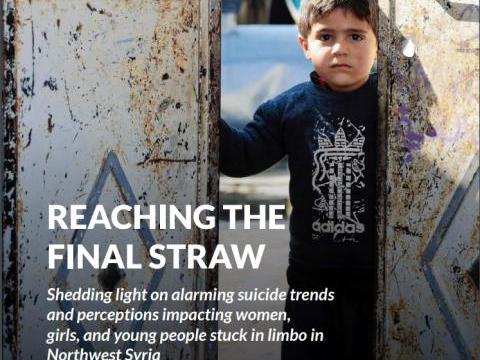 REACHING THE FINAL STRAW
Wednesday, December 7, 2022
REACHING THE FINAL STRAW 
Shedding light on alarming suicide trends and perceptions impacting women, girls, and young people stuck in limbo in Northwest Syria  
The majority of children and families in Northwest Syria have been displaced from their homes during the conflict. The 9,000 square kilometre area houses more than 2.87 million internally displaced persons (IDPs), 63% of whom still reside in overcrowded camps. The more than 1.7 million girls and boys in Northwest Syria are particularly prone to health outbreaks – much like the ongoing cholera outbreak – due to the absence of long-term shelter, water and sanitation solutions. Displaced women and girls are also exposed to high rates of sexual and gender-based violence (SGBV), with single, divorced and widowed women particularly vulnerable to stigma, exploitation and abuse. As funding for the Syria crisis response continues to dwindle, despite humanitarian needs on the ground being greater than ever before, residents of the Northwest are finding themselves increasingly isolated in their struggle to make ends meet.  
IMPORTANT
The below report contains sensitive findings on suicide and sexual and gender-based violence (SGBV) that some readers might find triggering.
Please contact your nearest mental health helpline if you need support.