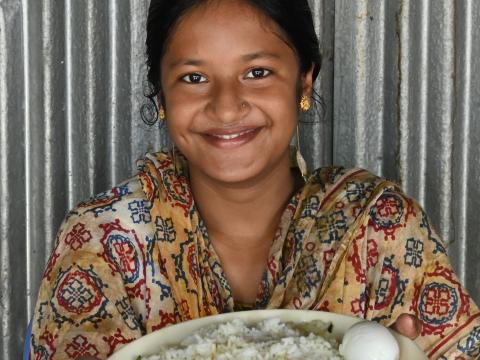 Nutrition Awareness Blooming- BIENGS Newsletter (1st issue)
Monday, October 11, 2021
The BIENGS project is a multisector nutrition project aimed at improving maternal and child health of 153,825 nutritionally vulnerable families in Bangladesh's Jamalpur and Sherpur districts. This report shows the progress of the project between June to August 2021. The project is also geared towards strengthening health and nutrition service delivery through a pro-poor governance model.
Some key events that took place during this period were: 306 women entrepreneurs received hands-on training in nursery establishment. Collection points were set up where farmers could earn more for their produce. As of 31 August 2021, 1,051 goats distributed by the project are now pregnant, providing economic and nutritional security for participants. The participants also observed World Breastfeeding Week by taking part in knowledge-sharing sessions on breastfeeding. Due to COVID-19 movement restrictions, participants attended Results-Oriented Monitoring (ROM) sessions online from 29 July 2021 to 3 August 2021.
During this period the project made impressive progress, such as reaching 15,334 mothers who participated in IYCF group sessions, 800 children benefited through 179 PD-Hearth sessions, 9584 adolescent girls participated in life skills sessions on healthy lifestyle and improved nutritional behavior, among others.