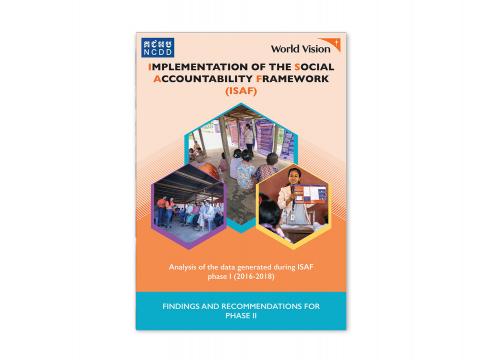 Review of the citizen generated data from ISAF Phase I (2016-2018)
Monday, April 13, 2020
Participatory processes have been a part of local governance and decentralisation initiatives led by the Royal Government of Cambodia since the mid-1990s. In 2015, the government launched the Implementation of the Social Accountability Framework (ISAF) to further improve local services through community empowerment, citizen monitoring and enhanced local dialogue with local authorities.
For the present report, the feedback provided by 180,000 people on the quality of local services provided by more than 680 commune administrations, 930 primary schools and 500 health centres was consolidated and analysed. The data, collected over 3 years, also includes detailed information about around 34,000 actions, adopted following town hall meetings, to improve the quality of the services provided in these facilities.
Unique in its scale and scope, the review of the data shows clear national patterns and trends in the feedback of citizens, highlighting the existence of nationwide issues affecting health and education systems. The data also shows that, while more than 60% of the actions responding to the feedback of citizens were implemented, local authorities and service providers struggled to address some of the issues most often raised by citizens. Building on these findings, the report presents recommendations that could allow to better factor the feedback of citizens on local services into the national planning and budgeting processes in Cambodia.