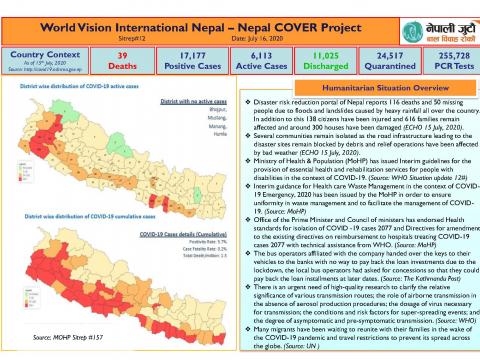 Nepal COVER Project SitRep 12 (Updated 16 July 2020)
Thursday, July 16, 2020
Some of the major highlights of Nepal COVID-19 Emergency Response (COVER) Project, as of 16 July 2020:
Psychosocial counselors established at 13 districts in partnership with Center for Mental Health Counseling Services (CMCS) Nepal. Till now, 16 individual cases and 3 group counseling have been referred for psychosocial counseling.

WV is airing radio program nationwide named Hamro Ghar Hamro Paathshala (7th espisode completed) to contribute to learning of children during lockdown targeting 104,000 children in working areas.

Material support provided to 44 local level governments to build and operate quarantine centers.

3,450 children supported with ingredients for super-flour.

2,353 households supported with Agro-input and livelihood promotion support.

40,017 people reached through social media messaging.