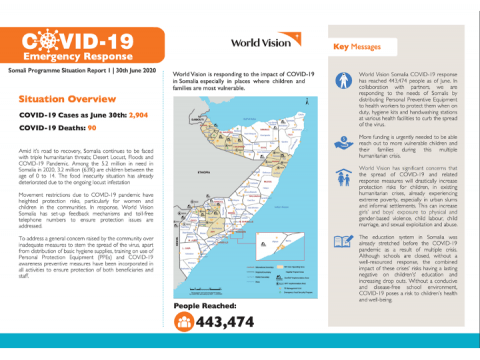 World Vision Somalia COVID-19 Situation Report - June 2020
Monday, July 13, 2020
Major highlights of World Vision's Somalia COVID-19 Emergency Response, as of 30th June 2020:
World Vision continues to create awareness, disseminate messages and highlight response interventions on COVID-19 through various communications platforms. A total of 11,983 people (2,825 male, 5,786 female , 2,352 boys, 4,168 girls) were reached through hygiene promotion and COVID-19 awareness messages in South West State and Jubaland.
World Vision supported the Ministry of Education to develop online learning content for standard 8 pupils expected to sit for their examinations this year. This will help to cover the gap created by the temporary closure of educational institutions as part of COVID-19 containment measures. 
More than 1,000 faith leaders were mobilized in collaboration with the Ministry of Religious Affairs to support community sensitization on COVID-19 and provide guidelines on prayer arrangements, funerals and social functions.
Distribution events in Somaliland were covered by various media houses including Somaliland National TV, Horn Cable TV, Horyaal 24TV, Laasdheere TV, Badda Cas24 TV, Bulsho TV, Gobanimo TV and Sulub Media Group. In Garowe, Puntland State TV covered intervention to support the Ministry of Health. 
Gene expert machines, TB diagnosis equipment are being utilized to scale up the testing capacity of COVID-19. Culture laboratories set-up for Multi-Drug Resistant Tuberculosis in use for COVID-19.
In coordination with different partners including Somali health tech company, OGOW EMR, Poet Nation Media and Grit Partners Consulting, World Vision through the Response Innovation Lab (RIL) has created a series of videos to create awareness on COVID-19 in line with WHO guidance.