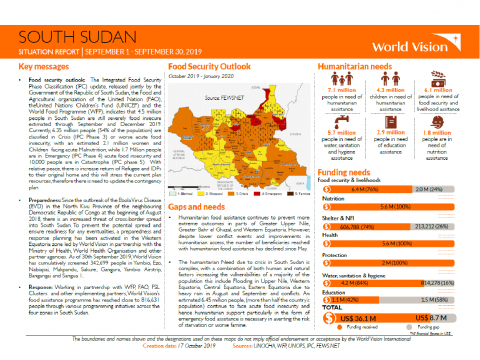 South Sudan - September 2019 Situation Report
Wednesday, October 23, 2019
Food security outlook: The Integrated Food Security Phase Classification (IPC) update, released jointly by the Government of the Republic of South Sudan, the Food and Agricultural organization of the United Nation (FAO), theUnited Nations Children's Fund (UNICEF) and the World Food Programme (WFP), indicates that 4.5 million people in South Sudan are still severely food insecure estimated through September and December 2019. Currently, 6.35 million people (54% of the population) are classified in Crisis (IPC Phase 3) or worse acute food insecurity, with an estimated 2.1 million women and Children facing acute Malnutrition, while 1.7 Million people are in Emergency (IPC Phase 4) acute food insecurity and 10,000 people are in Catastrophe (IPC Phase 5). With relative peace, there is an increase return of Refugee and IDPs to their original home and this will stress the current plan resources, therefore there is need to update the contingency plan.
Preparedness: Since the outbreak of the Ebola Virus Disease (EVD) in the North Kivu Province of the neighbouring Democratic Republic of Congo at the beginning of August 2018, there is an increased threat of cross-border spread into South Sudan. To prevent the potential spread and ensure readiness for any eventualities, preparedness and response planning has been activated in the Western Equatoria zone led by World Vision in partnership with the Ministry of Health, World Health Organisation and other partner agencies. As of 30th September 2019, World Vision has cumulatively screened 342,699 people in Yambio, Ezo, Nabiapai, Makpandu, Sakure, Gangura, Yambio Airstrip, Bangangai and Sangua 1.
Response: Working in partnership with WFP, FAO, FSL Clusters and other implementing partners, World Vision's food assistance programme has reached close to 816,631 people through various programming initiatives across the four zones in South Sudan.