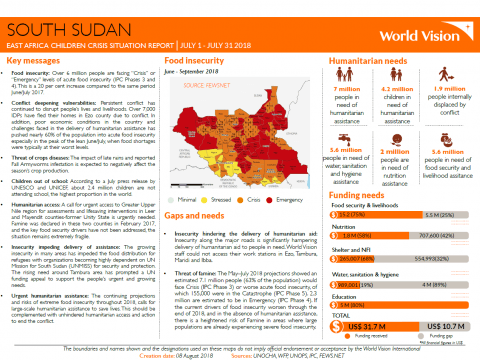 South Sudan - July 2018 Situation Report
Wednesday, August 22, 2018
Food insecurity: Over 6 million people are facing "Crisis" or "Emergency" levels of acute food insecurity (IPC Phases 3 and 4). This is a 20 per cent increase compared to the same period June/July 2017.
Conflict deepening vulnerabilities: Persistent conflict has continued to disrupt people's lives and livelihoods. Over 7,000 IDPs have fled their homes in Ezo county due to conflict. In addition, poor economic conditions in the country and challenges faced in the delivery of humanitarian assistance has pushed nearly 60% of the population into acute food insecurity especially in the peak of the lean June/July, when food shortages were typically at their worst levels.
Threat of crops diseases: The impact of late rains and reported Fall Armyworms infestation is expected to negatively affect the season's crop production.
Children out of school: According to a July press release by UNESCO and UNICEF, about 2.4 million children are not attending school, the highest proportion in the world.
Humanitarian access: A call for urgent access to Greater Upper Nile region for assessments and lifesaving interventions in Leer and Mayendit counties-former Unity State is urgently needed. Famine was declared in these two counties in February 2017, and the key food security drivers have not been addressed, the situation remains extremely fragile.
Insecurity impeding delivery of assistance: The growing insecurity in many areas has impeded the food distribution for refugees with organizations becoming highly dependent on UN Mission for South Sudan (UNMISS) for security and protection. The rising need around Tambura area has prompted a UN funding appeal to support the people's urgent and growing needs.
Urgent humanitarian assistance: The continuing projections and risks of extreme food insecurity throughout 2018, calls for large-scale humanitarian assistance to save lives. This should be complemented with unhindered humanitarian access and action to end the conflict. For more information read or download our July 2018 report here.