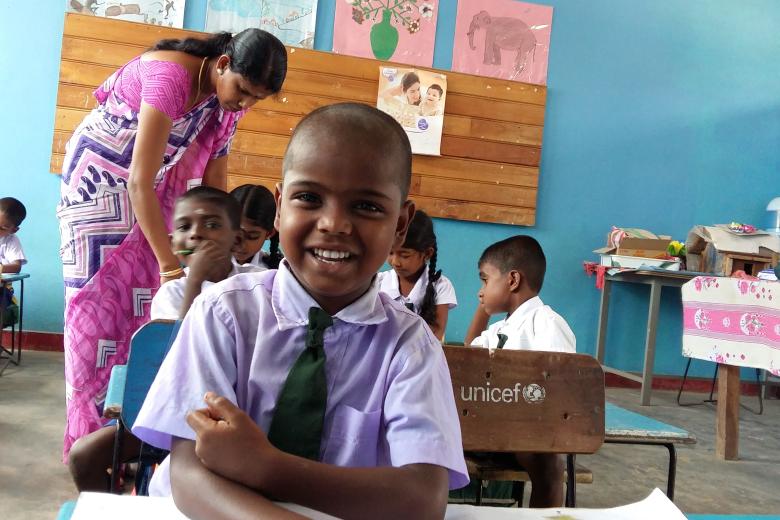 Ask and you shall receive…
Thursday, May 5, 2016
Teachers are the pillars of a school, so not having any is a serious problem.  
Yet, this is exactly what the Grade 2 students of one primary school in Nasivanthiu Village, Koralaipattu, had to endure.
"For a long time, there was no teacher for my child's class," says Yogeshwary, 43. "We were unable to change schools. Our child was falling behind and we were very worried." 
If the children were lucky, a teacher from another class might take a few lessons, but most of the time they just played outside the class. School attendance began to drop, while the wealthier parents sent their children to tuition classes. 
The mothers had enough and met the school principal, Grama Niladhari and Education Department officials. It didn't go well.
"We did not know how to approach such officers, and we argued with them," explains Yogeshwary.
This initial failure did not deter the mothers. "We sent out the letters as necessary and raised the issue at every meeting we attended. But the school still did not provide teachers," says Yogeshwary. 
In December 2013, World Vision's programme area in Koralaipattu worked to form a community group and conduct training on positively engaging with government officials. The issue at the school was brought up and World Vision verified the issue with the Zonal Education Department (ZED). With World Vision's support, the community group of 13 persons began systematically organizing themselves by collecting the necessary evidence, documents, and request letters to approach the government officials again. 
Seven months later, the group made its last submission to the Provincial Education Department of Trincomalee, with copies to the ZED.
"World Vision supported the group to formulate a letter to the ZED. We directly discussed our issue with the officer, who respectfully listened to all we had to say. We felt motivated," explained Yogeshwary. 
The result was a promise from the official to look into the matter. In January 2015, the school received a Grade 2 teacher and also a science teacher for the secondary school. In addition, this issue prompted the Divisional Secretary's Office to review the school and its management, and a new principal was susequently appointed.  
"Now, our children attend school regularly. We faced many challenges in trying to solve this issue, but now we feel proud. We achieved this as a team," says Yogeshwary.
Her mission complete, Yogeshwary has just one dream for her son who wants to be a teacher someday. "I only want my son to study well," she says.