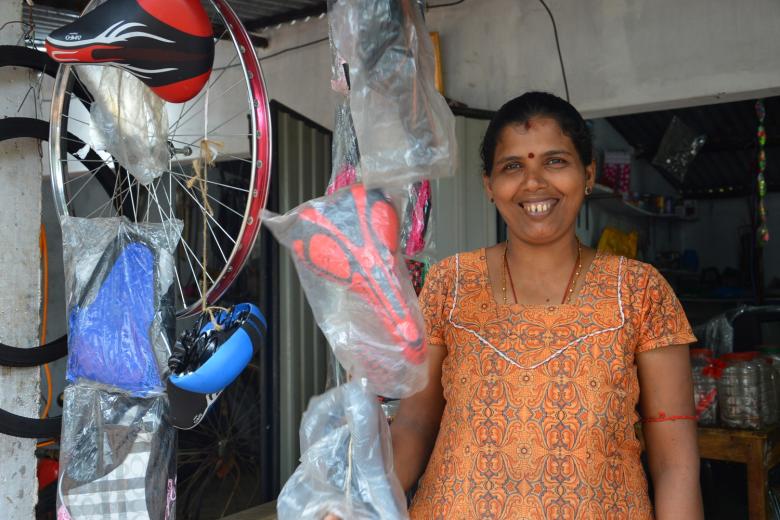 The Bicycle Shop
Wednesday, August 8, 2018
Some parents stay up a whole night to assemble a bicycle to surprise their child. For Rajeshwari (38), surprise or no surprise, it only takes a few hours. She's an expert not only in assembling but also repairing. She learnt it from her husband and it helped her provide for her family during the worst of times.

Rajeshwari and her family live in Karachchi, Kilinochchi North of Sri Lanka. They experienced war at its worst and somehow made it through the disaster. During the war, Rajeswari worked in a cultivation farm while her husband did bicycle repairing. When the war heightened, the family experienced multiple displacements.
"We still did any odd job that we found," Rajeshwari says, "We had to. A kilo of rice was costing 750 rupees (It is usually around 100 rupees) and a kilo of salt was 1000 rupees (in other circumstances 100 rupees)."
"When we left home with the children,  we took our motorbike, five bicycles, roofing sheets and tools to repair bicycles and tools needed to create a bunker," she says, "Finally when we moved into the camps, we only had our bicycle repairing tools remaining with us."
The thirty-year conflict in North Sri Lanka was coming to an end by 2009. People were moved out into government-controlled areas amidst shelling and fighting.
"I can't even explain the horrors we experienced. It was hell. We were like dead bodies but still breathing," she says, "For many days, we would boil the rice and drink the water and keep the rice for the children to eat in the night. Then it all ran out and we were without food for five days."
"Finally when we reached the safer zone, we were taken into camps. We had water and food. We also later were able to go out and find work. So we continued to repair bicycles. Then we were resettled again in 2010," she says.
Livelihoods support was one of the biggest needs in the resettled communities in North. Economic recovery provided speedier sense of returning to normalcy for the community, hence World Vision put a special focus on mental health and economic recovery of families.
"My husband put up a small hut and we started to repair bicycles to find an income," she says, "Then World Vision invited to a special programme on improving our livelihoods. Since I was already good at mechanic work, I chose the same at the programme."
"World Vision also helped the families build homegardens to grow what is necessary for home consumption so that we have food at home while we try to strengthen our income," she adds, "at the training I learnt how to plan my business, to take stock of what material we need to start and establish the business, how to purchase quality goods etc. We also shifted our hop to a better location where you find a lot of people crossing with bicycles."
Rajeshwari divided the place into a shop that sells bicycle parts and a repairing station. It is the only repairing station for the area. In addition to the goods provided by World Vision, worth 65,000 rupees, Rajeshwari now has goods worth 600,000.
"The shop is separate from the station," explains Rajeshwari, "I learnt that at the training. I invest my earnings from the shop back in it and use the earnings from the repairing station to support my family and for savings."
The shop is closed on Sundays and she attends to her garden during that day. Rajeshwari's plan is to expand the shop to include also stationery since a lot of school children come to the repairing station.
Rajeshwari's eldest is studying Math for his higher studies. Her other children are now aged 16, 14, 13 and 8. The youngest – Keerthika is sponsored by World Vision. Rajeshwari is also a mother to her two nephews who lost their parents in the war.
"With the income from the shop I am fully able to provide for all for them," she smiles, "Their schooling, additional classes and for everything they need.