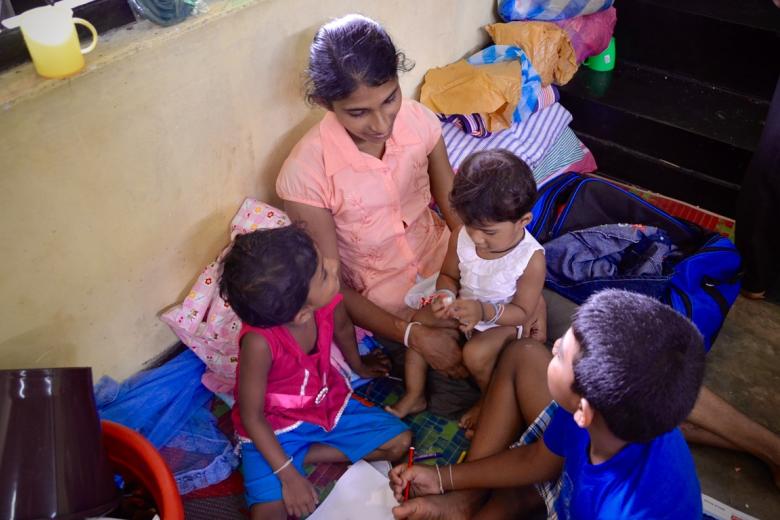 Chased by a mountain - An eyewitness account of the Aranayake landslide
Thursday, June 2, 2016
"It was my son who saw it first," says Shanika, 29, as we settle down near her small patch of space at the safe camp. "The rain had stopped and he was by the window looking out. My husband had gone to a friend's house and my daughter was at my neighbour's house to play. My youngest was fast asleep in her cot."
We had continuous rain and that morning the stream that flows by our village was overflowing so my husband asked me not to send Kavisha to school since they would have to cross the river.
At 4:30 my mother-in-law was anxious for my husband to return home and called him. He said he would be home soon. He called at 4:50 to check how we were. The rain had stopped and my son was looking out the window.
"Amma, rocks are falling down the mountain."
A little past five there was a terrible noise. I will never able to explain that sound. It was like a plane flew really low and crashed; like the sound of big rocks clashing. I had no idea what it was and never imagined it was a landslide. We've never experienced one before.
Kavisha called out to me and said "Amma, rocks are falling down the mountain."
I didn't stop to check or to think, I instantly grabbed my little daughter off the cot, grabbed Kavisha's hand and literally jumped out through the back door of our house, shouting to the neighbour to take my daughter who was there. They were already out and we ran.
I dragged my son along because his little feet couldn't keep up with me. At a distance it looked like the mountain was chasing after us. There were others running too. I didn't stop until I reached the road.
From there I went to my mother's house, which was on higher ground. My extended family was there too.
I called my husband but I couldn't get through to him.
I still couldn't get through to my husband. The next morning there was still no news.
People roamed the roads with their palms covering their mouths in shock. Some were worried about their loved ones. I was worried about my husband. The forces came to start search and rescue operations and they found a few bodies. Men who survived helped the forces.
The landslide site, Aranayaka.
They only brought the dead. No one was alive. There was a lot of weeping.
Then they found him.
One of the villagers had spotted his heels and called out to the forces. Unlike the other bodies that were recovered distorted and broken, his body was intact and he had only a few bruises on his face.
We all mourned together. Almost every family has lost someone. There are parents who lost their children while they survived. A couple that lived several houses from ours had gone to the town to buy things leaving their two children with the neighbour. The neighbour and the children were buried.
For me, I look at my children and I need to be strong for them.
The camps became crowded the next few days with families evacuated from other risk areas around the mountains. There are lots of goods we have received through relief and contributions of generous people.
We all mourned together. Almost every family has lost someone.
My biggest fear is where will I go after the rains are over? Where will we be safe? Will more mountains come down?
I don't want to leave the area because everyone I know is here and I feel a sense of protection.
My older children understand their father will not be back. They seem to deal with it fine at the moment distracted by the activities that happen around us. But my youngest looks for him.
Everyday when the camp distributes biscuits for evening tea, she looks around calling out for him – "thaththa, thaththa" because he used to bring her biscuits. Even at the funeral she saw his picture on a banner and began to call out to him."
Note: World Vision responded in Aranayake initially distributing non-food relief items and hygiene packs for families. We have also commenced Child Friendly Spaces in several camps to help the affected children regain a sense of normalcy. We will soon commence a Child Friendly Space in the camp where Shanika and her children are staying.
While responding to the immediate needs of families, World Vision plans to take the response through to the recovery phase as well. We will focus on economic recovery, education for children and disaster preparedness of the villages.
Shanika's village was one of the three villages that were buried in the massive landslide. While 48 bodies were recovered, over 100 remain missing.