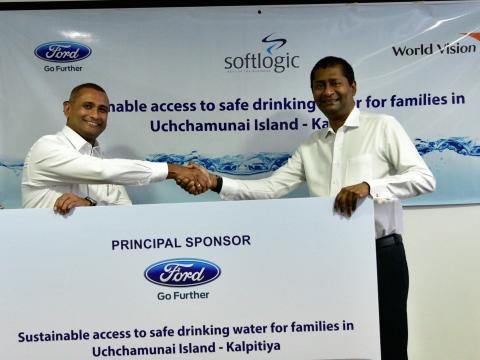 Ford-World Vision on yet another water partnership
Wednesday, July 25, 2018
Ford Motors of Softlogic Group, pledged their support recently as the principal sponsor to provide clean water to yet another vulnerable community in one of World Vision's programme areas. Ford Motors has been partnering with us since 2015 and has already completed a water project in Vaharai, East Sri Lanka benefitting 150 families.
The new partnership focuses on 40 families in Uchchamunai Island, Kalpitiya. Kalpitiya peninsular is located on the west coast of Sri Lanka and includes 14 islands – home to a number of fishing families.
Due to the cost of transporting water via boat from the mainland, these families access water through sand wells (shallow water wells), where the water is high in salinity. Consuming this water has brought many health issues upon the children and their families.
The new project will provide year-round access to safe potable water and raise awareness on safe water care and storage practices, as well as form a water consumer society in order to continually monitor and manage the water systems being implemented.
Meanwhile a rain water harvesting project is due to complete in Welikanda this October benefitting 30 families – another gift from Ford Motors through World Vision.