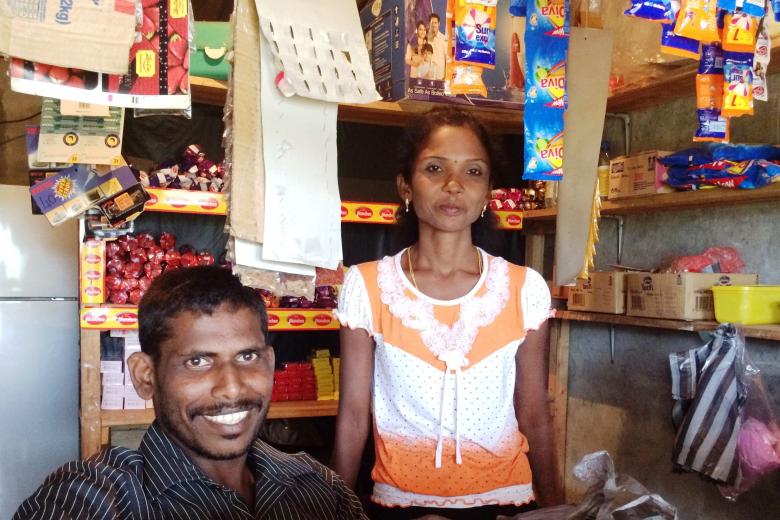 A helping hand for a successful future
Friday, June 12, 2015
Sinnathambi Yoganathan (38) and his wife Jegatheeswary (32) are no strangers to hardship. Paralyzed during the civil war and being displaced from their home in Mullaitivu, life was not easy for the couple.
When they settled in the village of Jeevapuram in the east of the country, the couple had to start all over again. Yoganathan was confined to a wheelchair and was unable to find work.  "We had to live with my sister," explains Yoganathan. "As time passed, I felt we were a burden to them."
However, Yoganathan was determined not to be defeated. With the little savings that they had, the couple bought a small piece of land and built a small hut in which to live but they struggled to make ends meet.
Yoganathan's life was about to change when World Vision community volunteer approached him one day. "She invited us to attend a meeting (Community Based Organization - CBO) meeting where there was training on livelihood development," says Yoganathan. "My wife attended this meeting as I could not." 
Jegatheeswary was encouraged at this initial meeting and continued to attend the trainings on business development under the Generate Your Business (GYB) and Start Your Business (SYB) programmes. At the end of the training, the participants were given the option of selecting a business activity to engage in. "My wife and I discussed about this opportunity, and we thought it will be good to start a small grocery shop for our livelihood," he says.
World Vision then assisted the couple with grocery items to the value of Rupees 23,000 and they started the shop at their premises. "We now have a turnover of Rupees 5,000 a day with a profit of Rupees 700 per day," says a smiling Yoganathan. "We generally sell the goods at the market price which is the same as the shops on the main street or town area."
The hardworking couple is very particular about maintaining their books, diligently recording their income, expenditure and savings. "Recently, we even bought a refrigerator with our savings from this business," explains Jegatheeswary with pride.
World Vision continues to assist the family and has provided a well for drinking water and training for cultivating a home garden.   
On their part, Yoganathan and Jegatheeswary believe in giving back. Jegatheeswary is also involved in community development work and attends meetings of the CBO for the betterment of her community.