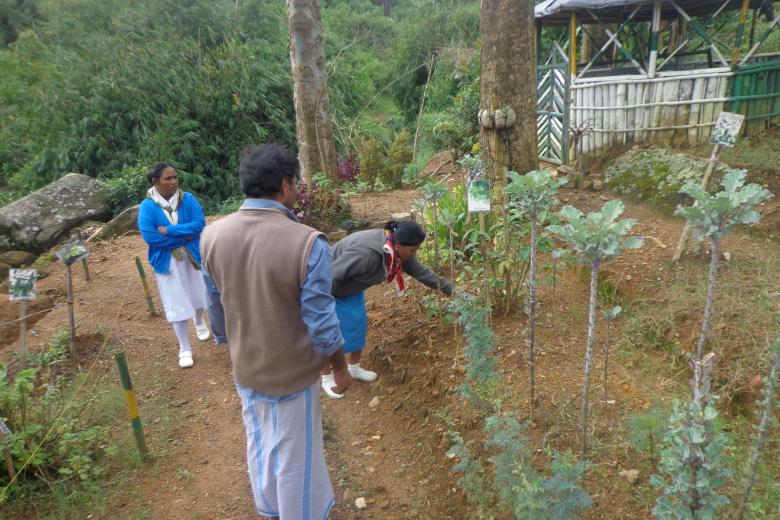 Model Garden combats malnutrition in Bogowantalawa
Friday, August 22, 2014
Recent surveys have shown that the highest number of malnourished children under five years is in the Bogawantalawa area. To address this issue, World Vision's Bogowantalawa Area Development Programme (ADP) has initiated a Nutritional Model Garden on Campion Estate in order to provide nutritious food to the children in the estate's crèches.
"In order to completely address malnutrition, a long term, targeted intervention is needed," explains Jude Thavarajah, Manager of the Bogowantalawa ADP. "We together with the Medical Office of Health (MOH) proposed a model garden, and the Estate Management offered their support towards this initiative."
The Estate Management provided the 50 perch land and water facility, while the Agriculture Unit of the Divisional Secretariat provided advice and training on the types of plants to be grown and also landscaped the garden. The Environment Protection and Scientific Exploration Organization (EPSEO) provided advice on preparing the soil for cultivation.
Currently, 142 children in five crèches on Campion Estate are benefitting from the model garden. Before the project commenced, the children were given mostly starch based food with a vegetable which was purchased from the market. A balanced diet was not provided.
The model garden is chemical free and grows a variety of fruits, vegetables, green leaves and herbs to cover the required range of nutrients. The Crèche Committee distributes the produce from the garden amongst the five crèches, while the Community Development Forum ensures the sustainability of the project by selling the additional produce and using the income to maintain the garden.
World Vision provided the crèche attendants with training on proper food preparation under its Early Childhood Care and Development (ECCD) and Positive Deviance Hearth (PD Hearth) nutrition programmes.
The MOH staff monitors the growth of the children while the Public Health Inspector often visits the crèches to ensure the food is hygienically prepared and that the model garden is properly maintained.
"My one year old son Kabilash was 7.5 Kg in the month of May, but after he began receiving the healthy food in the crèche his weight has gone up to 8.5 Kg in June," says one mother, Thayagini.
The success of the model garden has prompted surrounding estates to seek the assistance of the Bogowantalawa ADP in replicating the project. "It is also encouraging to see many parents with their children visiting the garden, and they have even started their own small model garden. These families are now paying more attention to consuming balanced meals," says Jude Thavarajah.
Currently, this best practice is also being followed in the ADPs of Pathana, Devon and Ambagamuwa.