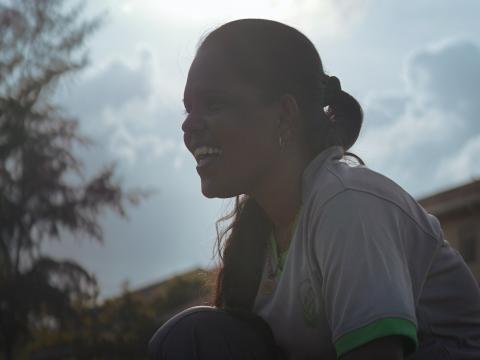 This is my race...
Thursday, March 7, 2019
Running is her life. That's one thing that makes her smile from one ear to the other.
Puwanalojini (39) doesn't have a coach. She practices on her own. Every year she takes part in Sports events at Regional, Provincial and National levels and never fails to bag a place. Last year she bagged the second place in long jump at the National Games.
"I first learnt running from the sports teacher in my school," says Puwanalojini, "But we never continue school after grade 8 because of the war. After that I never ran."
2009 made a lot of changes to her life – her race.
It's the year the war ended. It's also the year she lost both her husband and her arm.
Like all the other families from Mullaithivu, North Sri Lanka, Puwanalojini was running for safety from one place to another that year. They were displaced multiple times.
She was pregnant with her son and closer to her delivery, she lost her husband.
Three months into her son's birth, she lost her left arm when they were caught in a shell attack.
"After my husband went missing, I looked for him for one year," says Puwanalojini, "after that I was depressed and did not go out for a whole year."
She returned to Vaharai, (East Sri Lanka) with her son where her parents had resettled after the war.
"My parents were devastated by my condition, especially over the fact that I had lost my arm. It was difficult to console them," she says, "But for me, I wasn't worried about losing an arm."
Within three months she learnt to be on her bicycle again. She went looking for others who were in similar vulnerable situations like her. She found 15 people who were now with disability due to war.  She walked from house to house looking for others.
"We gathered 582 people who had disability. Among them are 75 children. Some had lost their limbs in landmines," she says, "But I wanted to give them hope."
Meanwhile World Vision began to work in her community first through a rehabilitation programme and then graduating it into a development programme with community participation.
"Through World Vision's assistance we received livelihoods support, skills and knowledge on how to manage our finances," she says.
"But the best change that I see world Vision has done in the community is improving inclusion of vulnerable groups. People in my community now always find ways to include those that are left out," she smiles.
Puwanalojini also returned to her running again.  "I began to run around the house at first and then when the roads were built, I began to use it as my track. But I would run early morning before sunrise so that no one would see me," she chuckles.
Other than running her passion is to bring hope to the most vulnerable people in her community.
"I enjoy being a part of World Vision," she says.
There are over 25,000 women in Batticaloa District who are widowed by the war.  Having had to abandone schooling and now with very little skills, most of them struggle to provide for their families.  Many of these women have also suffered abuse due to people preying on their vulnerability and have limited support to report or combat this abuse.
World Vision is already reaching out to them through different Projects. The upcoming new Project will focus on building their financial and business skills and will introduce them to home-based new livelihoods. The Project will mobilise them into groups where they will be able to support one another and collectively negotiate. Gender-based violence bureau will also be strengthened to give women a safe space to report cases of violence without facing social stigma, and seek legal action.
Follow the link below to support this Project:
 https://www.globalgiving.org/projects/empowering-war-widowed-women-in-sri-lanka/