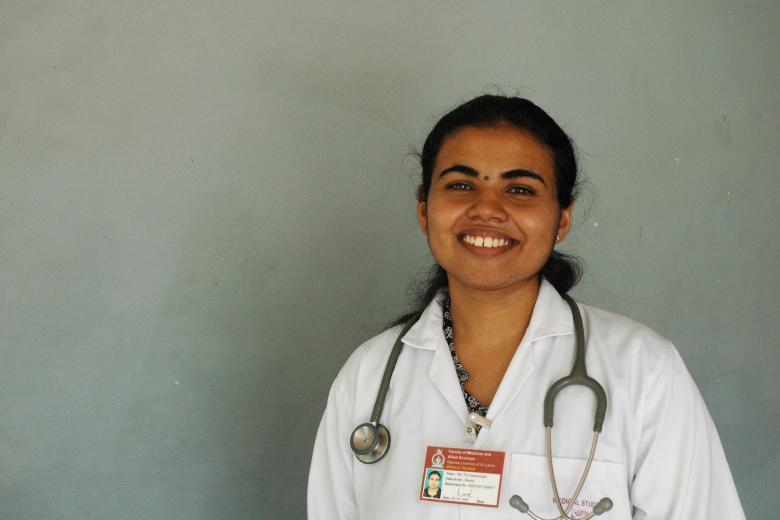 Niroma's Dream
Wednesday, May 2, 2012
Dressed in a white coat and the stethoscope around her neck, Niroma stands near a hospital bed in the Anuradhapura Base Hospital, listening, consoling and giving hope to a mother who is distressed about her little daughter's condition.
"Don't worry, she will be okay soon," she assures in her caring voice as she explains the condition.
"Sometimes patients or their loved ones won't fully understand the condition even if we explain, but it is a must that we take time to listen and give hope," she says. "It is difficult if you know that they have no chance of recovering but you can still take time to give them strength for that day."
Niroma is in her final year in Medical College and is now at the Anuradhapura Base Hospital practicing and gaining experience to be a doctor. She has assisted in the operation theatre, in different wards and cared for a number of patients. 
"One of my unforgettable experiences was when a young boy was brought to the hospital after an accident. He was unconscious and although the doctors gave him CPR for 40 minutes they were unsuccessful. If the patient doesn't respond within 40 minutes, he is declared dead. We (medical students) began to take turns and give him CPR again. After an hour he came back to life," she says, "I realised how much responsibility I have in my hands for another person's life."
Coming from Thammannagama, a rural village in Galenbindunuwewa, was not an easy journey for Niroma. She has struggled to be where she is now. 
"I always wanted to be a doctor when I grow up, but I knew it was difficult for my parents to support all three of us (she and her sisters) to get through school," says Niroma. "My parents always said that education is the only way to get out of poverty. So I wanted to study hard."
"Many children didn't complete school in my village. Sometimes it was because parents didn't know the value of education and some had no choice because of poverty," she says. "With World Vision coming to our village things changed. I remember I was in Grade 4 at that time."
"The sponsorship programme supported every child to be in school providing them with the necessary school stationery every year. It was a big relief to my parents too. We received study assistance classes and we even had an English class and a computer class. That is the only place where I learnt English and computer and it helped me a lot."
Seeing Niroma's persistence and hard work, World Vision offered her a scholarship for her higher education and followed her with a university scholarship. 
"My first stethoscope is a gift from World Vision," smiles the medical student. Although she hasn't decided on the field she wants to specialise in, she knows she wants to serve the rural communities. "I come from a rural village and I can understand their hardships better," she says.