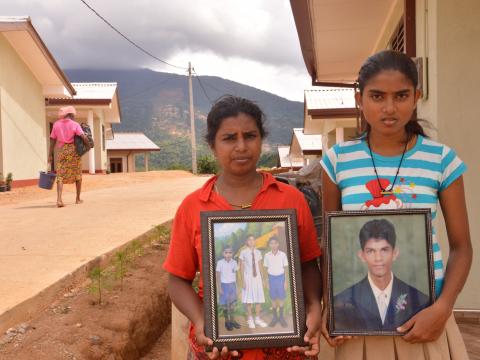 Out of the mud…
Thursday, May 18, 2017
Saumya and her mother, Thanuja holding pictures of the loved ones. Saumya holds a photo of her father taken on his wedding day and Thanuja is holding a photo of her three children. The youngest she lost in the landslide is in the picture. They couldn't recover anything from their house and the relations had given them these two photos they had with them.
 Saumya (17) was buried face down. Something heavy was on her back. She could move neither her hands nor her legs. She couldn't even feel them. But in that position she could still breathe through her mouth.
"It all started with this big noise. It sounded like a plane flying low and crashing. I came out of my room into the living room. Then as if I lost my balance I fell forward, something pushing me from behind," recalls Saumya.
Saumya lived with her parents and her two younger brothers (ages 14 and 11) halfway up the Samasar mountain in Aranayake, Kegalle District. Her parents cultivated spices and tea and also had a small shop attached to their house.
It was the evening of May 17, 2016. They had had continuous rain for three days. But this day was sunny and no one had the slightest clue what they were about to experience.
 "All of us were at home," Saumya says, "My mother was in the shop, my brothers were playing outside and my father was cleaning some spices at the front of the house with two of his friends."
 Suddenly with a loud noise, 60 acres of land closer to the tip of the mountain turned into mud and gushed down at unimaginable speed. Within minutes it rolled down trees and massive rocks, burying three villages.
The path of the landslide from halfway up the mountain
On top of where Saumya lay buried, were a massive rock and a tree the landslide had left behind. There was absolutely no trace of her house. Two of her uncles who lived lower on the mountain and out of the path of the landslide witnessed the disaster. They ran up the mountain slipping and wading through the mud but there were no houses anymore.
Then they saw one wall that they recognised to be from Saumya's house. The wall held the altar to Lord Buddha. From there, they could assume where the rest of the house was.
First they found Saumya's mother, her hand completely crushed by a cupboard that had fallen on her. They found Saumya's older brother trapped under a tree. He had wounds all over his head.
But it became difficult to locate the others.
Her uncles kept scraping and digging through mud keeping their ears to the floor and listening for any sounds.
"At some point one of them heard my cry and shouted back asking where I was. I said I was in the living room and that I couldn't move," Saumya says.
Her uncle ran back and brought his chainsaw. He began to cut through the mud. Two hours later they had made a hole through debris.  The cupboard had fallen on Saumya pushing her onto the TV stand which held her body above the ground and she had enough space to breathe.
Her long thick hair (which was up to her knee in length) was stuck in the rubble so they chopped it off. As the chain saw cut the space around her, her left hand got released but fell on the chainsaw. It slit her hand to the bone.
 "In the dark, my uncle didn't realise it but neither did I. Although I was conscious, I was numb. I felt no pain," she says, "They pulled me out and my uncle carried me down the mountain. A man in a three wheeler took us to the hospital. My mother was taken to a different hospital. My brother was in the same hospital as I."
Saumya's long hair that was cut off to rescue her is still trapped in the rubble
"At the hospital they realised there was a wound to the left side of my head that needed to be stitched. My whole back had wounds and my arm was bad. But I still felt no pain. It was several days before I began to feel the pain."
Seven days after the disaster, the rescue team recovered the body of her father and the two friends. A day later they recovered the body of her youngest brother.
"He was the pampered one and was very naughty," she recalls the good times, "We went to the same school. He would sometimes make me carry his school bag. He loved to climb trees."
Saumya stayed in the camp visiting the hospital for medication. The families who lost loved ones received special attention and psychosocial support. But Saumya stopped talking and started to shiver uncontrollably at times.
"Even though I went to the World Vision Child Friendly Space, I kept to myself. The trained volunteers took very good care of me knowing my situation. They spoke to me but never forced me to speak," She says, "Before the disaster I had ten close friends. We played together, went to school together. I lost eight of them. So I didn't want to have new friends."
Then one day at the Child Friendly Space, she began to speak. She cried. "I realised that speaking helped and sometimes I repeated my story. They always listened." Saumya slowly began her journey towards recovery.
Several months later and with her condition improved, Saumya got enrolled into a new school that was closer to the hospital. "The Principal and the teachers are very good to me. My teacher even wrote the notes for me while teaching the class," she says.
Beginning of this year, the family received a new house under the special housing project by Rhino Roofing.
Life is still hard for the survivors of the family. Her mother still weeps when she remembers her husband and the little son.
"But I know I have to be strong for my two children who are with me. I want to help them have a good life and a future," she says.
"I want to study hard and become someone who helps others," shares Saumya,  "During the disaster I was so inspired by the support we received from organisations like World Vision and even people we had never met before."
Aranayake landslide buried three villages on its path down the mountain. 48 bodies were recovered during weeks of rescue operations and 110 still remain missing.
Families, both who were affected and those in the surrounding risk areas were removed to temples, schools, government buildings and other safer locations.
World Vision response team arrived in the location within 14 hours of the disaster and provided non-food-items and health and hygiene packs to 400 affected families in five camps.
World Vision continued its response to the affected children and the families in coordination with the government and other NGO for the next 9 months.