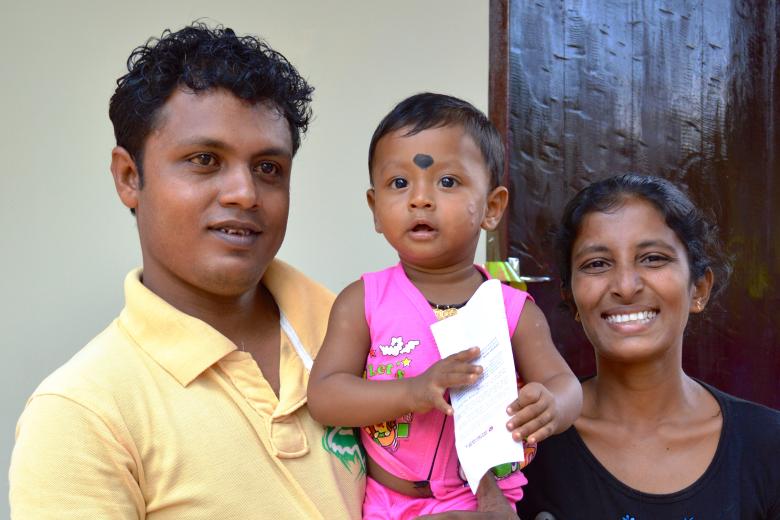 Partners of World Vision bring hope for Thanojani
Friday, June 12, 2015
The little house is freshly painted and swept clean.  Just at the entrance, Thanojani (25) stands with her husband and baby, beaming happily. This is Thanojani's new home, and she is looking forward to moving in with her little family.
Life has never been easy for the young woman. She lived in a tiny wattle and daub house with her mother, two sisters, husband and new baby. Being disabled, Thanojani faced limited opportunities for employment, but her spirit could not be crushed. She was a very enthusiastic village volunteer for the World Vision Area Development Programme in Horowpathana.
When she received a land from her mother, Thanojani really desired a home to call her own, a place to raise her little son in a secure environment; but with the limited income from her husband's job at a bakery, a house was just a dream.
That is, until World Vision intervened, and brought with them some friends to help. "Two years ago, we began to implement the 'Our Children Our Future' initiative, with the intention of raising awareness amongst our stakeholders about World Vision's work," explains Sumeda Rowel, Regional Director Supply Chain Management. "Some of our suppliers did not know what World Vision's core work was, despite being our partners for decades. So we thought of this initiative as a way to connect them with the communities we work in."
The initiative has been a success and on this occasion three partners, Vet World (Pvt) Ltd, Analytical Instruments and the manager of Union Assurance PLC - Negombo Branch, came forward to assist World Vision with funding to build a new home for Thanojani.
"With this kind of collaboration, we can do so much in our communities," says Dilranjan Jacob, Chief Operating Officer of Analytical Instruments. "It is wonderful that we can get together for something that is more than just business and that makes a difference to someone's life."
The total contribution from the partners was 342,000 rupees (2617 USD) while labour and other raw material costs amounting to 100,000 rupees ( 752 USD) was sourced from the village.
The simple housewarming ceremony was complete as the pot of milk boiled over. Thanojani's heart too was overflowing with joy. "How can I thank you all?" says Thanojani, her voice heavy with emotion. "World Vision and their partners built this home for me as if it were their own. Because of you, I have a home for a lifetime."