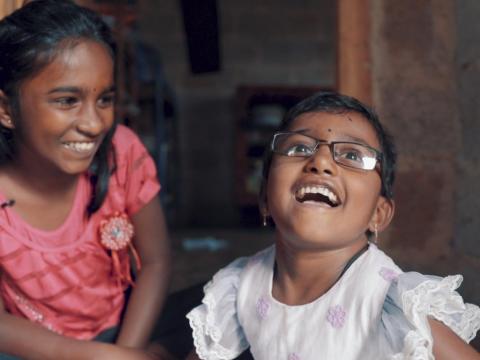 The permaculture project
Thursday, January 21, 2016
Two-year-old Chamodhya puts her tiny hands into a can to scoop out some water. She's a busy little girl, as helping her mother water the garden is quite a task. After all, the home-based patch is packed with fruit and vegetables.
Her mother, Krishanthi, laughs, saying, "My garden has chilies, okra, beans, aubergines, bitter gourds, oranges, papayas, mangoes, bananas… shall I go on?"

The 30-year-old's lush garden in Nawathgaththegama is due to World Vision's Permaculture Project. Funded by the Australian Department of Foreign Affairs and Trade (DFAT) - Australian NGO Cooperation Program (ANCP), the project establishes sustainable, eco-friendly agriculture using local resources and technology to improve farmers' quality of life.

"After my oldest daughter joined the sponsorship programme, World Vision gave me some coconut, jackfruit, and mango saplings as a start," explains Krishanthi. "I'd studied agriculture before, so I was happy to start my own home garden."

Living in the next village is Mallika, another proud owner of a thriving domestic garden. "I knew a little bit about gardening, but I didn't know how to do it systematically," says the 38-year-old. "I've learned how to look after a plant nursery, make organic weed-killers and fertilisers, and organise the garden properly."

To date, World Vision has introduced the Permaculture Project in eight of its working programmes areas. For most of the island nation's rural communities, farming is the primary source of income, but the widespread use of chemicals has degraded soil fertility, slashing yields.

After offering beneficiaries of the project the knowledge and tools for organic farming, World Vision links the producers to farmer networks and agricultural specialists in the government, who provide further technical advice.

Krishanthi says, "The training I've attended has helped me think about how I can improve my garden even more. I don't really need to visit the market except to buy onions and fish. I have almost every type of fruit and vegetable here."

Like Krishanthi and Mallika, many Sri Lankan women have benefitted from the project, with 2,200 being trained to run small businesses this year alone.

Deepthi Silva, manager of the Nawathgaththegama programme area, observes, "Since this project has taken root, there has been a cultural and attitude shift in terms of health and nutrition. Women are the key to the project. Many of them were unemployed before they engaged in home gardening, but now they're very involved in every aspect of their family's well-being by skillfully managing the practical as well as the financial aspects of the project."

For Mallika, being able to save is a huge relief.
"Since our home garden supplies almost all the vegetables and fruit my family needs, what I'd usually spend on buying food at the market now goes towards my children's education."

Krishanthi adds, "Not only can I save, but I can also provide something healthy for my children to eat from my own garden all year round. And my kids are healthy. We rarely have to visit the doctor now and I believe that's because of the good, clean food they eat."

Coordinator of the project in Sri Lanka, Jayamini Pushpakumara says, "Families often work in the gardens together. Husbands are supportive and women are encouraged to take a prominent role, joining local committees and sharing their training with others. Most of the women are producing more than they need for their household consumption and are selling the surplus produce at the local market. The project has encouraged around 5,000 farming families in the country to engage in organic farming and is paving the way for sustainable and environmentally friendly livelihoods for these communities."
Grant project
Promotion of Permaculture Home Gardens Project
Funded by: Australian Department of Foreign Affairs and Trade (DFAT) - Australian NGO Cooperation Program (ANCP)
Time Frame: June 2012 – June 2017

Purpose and Objective: The project will support families in four provinces of Sri Lanka to establish permaculture home gardens. The project aims to provide reliable access to food and increase livelihoods in an environmentally sustainable manner. Most rural communities in Sri Lanka are engaged in subsistence farming. However poor farming practices such as the widespread use of fertilizers and agrochemicals have resulted in the reduction of soil fertility and environmental degradation. The Permaculture Project will provide rural communities with knowledge on sustainable agriculture practices whiles enabling them to increase their household nutrition levels and livelihoods.