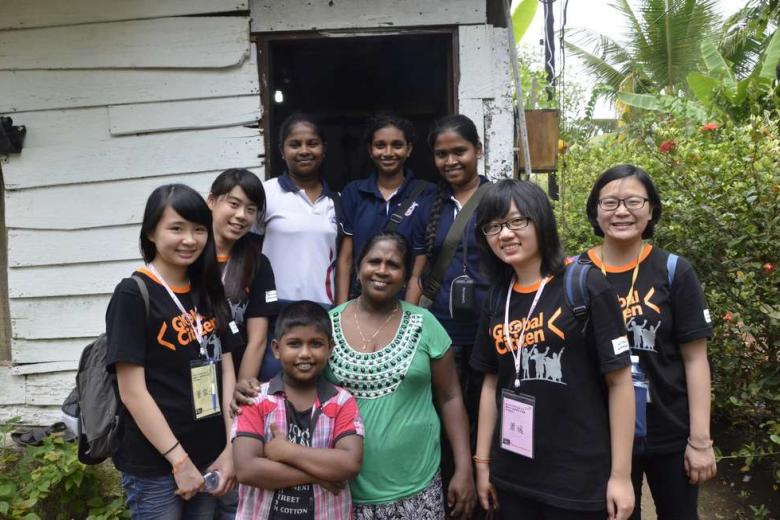 Striving to be a responsible global citizen
Monday, November 25, 2013
The World Vision Taiwan Global Citizenship Volunteering and Learning trip brought 17 teenage girl students together with their teachers to Sri Lanka to experience first-hand the daily lives of the people we serve living in poverty and great need.
The team first visited the Wattala development project where they were given a warm welcome by the students of St. Anne's Girls School with lotus flowers and traditional dance performances. Later the students together with the local children had the opportunity of volunteering their services in a beach cleaning project, learning the importance of a clean and child friendly environment for the community.
Learning sessions included in the programme helped the students understand youth issues in the communities as well as the global issues that affect them. This gave the opportunity for local children representing the Wattala and Negombo development projects to interact more with the visitors and make it a more meaningful learning forum.
The highlight of the trip was the time spent with the sponsored families in Wattala and income generation activities in Negombo. The Taiwan team had a special experience interacting more closely with the local families sharing their stories, hopes and dreams and preparing a fellowship lunch together with them.
For the students it was exciting to try their hand at scraping coconut in the traditional method and fetching water in buckets. They also gave back a bit of their culture through song and dance bringing such joy to the families they met.
"The women of these communities are so strong and it's amazing to hear how they have overcome their hardships. They are truly an inspiration to us," Cindy the Taiwan team leader.
"This is not the end, just a good-bye. This is only the beginning for our journey to be channels of hope for the less fortunate."