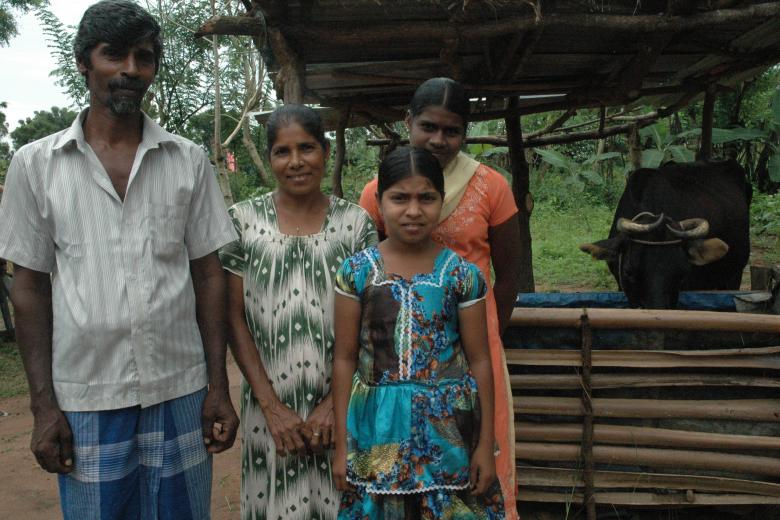 Woodcutter turned dairy farmer savours change in fortunes
Thursday, March 6, 2014
Life was a daily challenge for woodcutter Arasaratnam and his wife Damayanthi as they struggled to earn enough income to feed their four children. Things got so bad that Damayanthi had to leave their home in the remote village of Kayankuda, Eravur Pattu to seek employment overseas as a domestic worker to make ends meet.
The two youngest girls Atchana (15) and Dilukshana (13) were left in the care of their two elder sisters who had to sadly drop out of school to look after their younger sisters. "We were unhappy those days because some days we would come from school hungry and we didn't have enough to eat. We hardly had fish with rice," says Atchana.
Arasaratnam feared that if their plight continued his younger daughters too would have to drop out of school as the household demands were increasing month by month.
It was at this time that World Vision began a development programme in their village and the family's fortunes took a turn for the better. Atchana and Dilukshana were included in the sponsorship programme and the family received livelihood support of a cow, a few goats and poultry.
"I didn't know much about rearing cows but we were provided with training and I learnt a lot. They taught us how to care for the animals. They also gave us advice on how to treat them and keep them healthy," says Arasaratnam.
"We couldn't afford to give milk to our children but now we get 12-15 litres of milk per day for six months after a calf is born. We keep some of it to give our children and sell the balance for LKR 50/= (US 40 cents) per litre at the milk board and get a very good income. Apart from this we sell the eggs from the poultry and earn an extra income as well," Damayanthi adds with a smile.
Their lifestyle has undergone a complete change. The income has increased and each day looked brighter than the last. One of the greatest joys for the family was the return of Damayanthi from Saudi Arabia and the children were delighted to have their mother's arms around them once again.
The children are healthy and now enjoy fresh milk and three nutritious meals a day complete with fish or egg regularly on their plate. They have also received school stationery and other assistance and are encouraged to continue going to school.
"We are very happy now because we have enough food to fill our stomachs. We are very grateful to our sponsors and enjoy keeping in touch with them and look forward to their letters and cards," Atchana and her sister says with thankful hearts.
"I do not have to go chop wood anymore. We now have a stable income and also have enough to save. No other organization has helped us like this," said Arasaratnam.