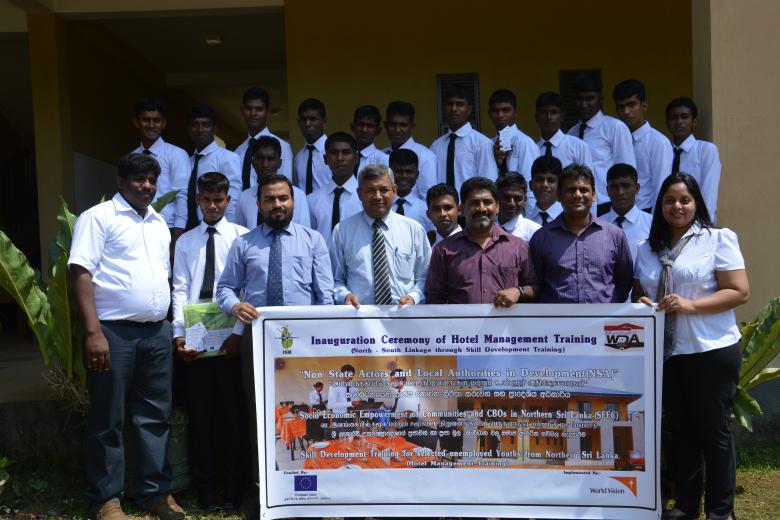 World Vision and Industrial Services Bureau collaborate for skills development of Northern youth
Wednesday, March 18, 2015
World Vision together with the Industrial Services Bureau (ISB), a statutory body established under the Provincial Council of North Western Province, recently launched a specially designed Tamil medium Certificate Course in Hotel Management to support 20 unemployed youth from Mullaithivu and Killinochchi in the North.
The new Hotel Management curriculum consists of four main areas which include training on accommodation services, food and beverage services, cookery and reception services. The students will also have extra English language classes to enhance their knowledge. The course will be conducted by the ISB in collaboration with Wayamba Development Authority (WDA) and Wayamba Institute of Hotel and Tourism Management. With the support of World Vision, the Institute has made special arrangements to provide meals and accommodation facilities for the students as well.
 "Let me thank World Vision for this great opportunity to partner with them in initiating this programme, and our sister organization the Wayamba Development Authority for taking up the challenge in facilitating this course," Neelakanth Wanninayake, Chairman, ISB said at the inauguration event held in Kurunegala, "This is a North-South relationship-building effort focusing on infrastructure and human resource."
 "There are many Hotel Management courses, but as far as I know there is no institute that has this course offered in the Tamil Language. In Sri Lanka there is a demand for about 9000 persons per year in the hotel trade, but taking into account all institutes around the country Sri Lanka only produces a total of 1500 students per year to meet the demand. So there is a good future for jobs in this industry," said Deepthi Lamahewa, Chairman of WDA.
The residential programme will be conducted in two phases. The initial five months of theoretical learning will be followed by a period of six months practical training in reputed hotels in Sri Lanka. The ISB and WDA have taken necessary steps to make the students feel welcome and comfortable in a new learning environment.
The collaboration with the ISB is a result of the Socio Economic Empowerment of Communities and CBOs in Northern Sri Lanka (SEEC) project of World Vision Lanka funded by the European Union (EU). 
"It is rarely that an idea such as this becomes a reality. We are indeed thankful to the EU for their funding and for supporting this cause," said Amenthi Jasinghe-Dabare, HEA Manager, World Vision Lanka, speaking at the event.