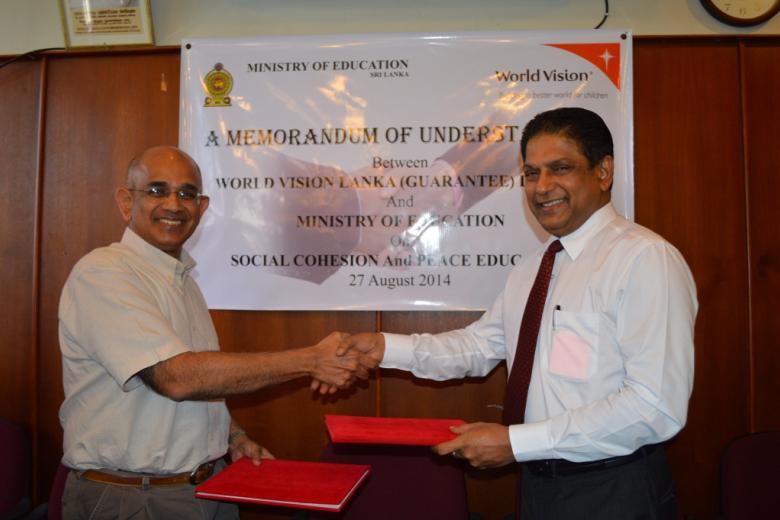 World Vision and the Ministry of Education in partnership to promote peace education
Friday, September 5, 2014
World Vision Lanka and the Ministry of Education (MoE) recently signed a Memorandum of Understanding (MoU) in order to collaborate on educational development by promoting social cohesion and peace through education.
This partnership will focus on educational development especially with respect to the framework of action on Education for Social Cohesion and Peace (EFSCP). This is especially relevant given the post-conflict development context and is in addition to all other education related initiatives supported by World Vision in its 42 programme areas.
"This is the first time we are coming together on a topic such as this," said Anura Dissanayake, Secretary, Ministry of Education. "I'm sure this partnership will help foster lasting peace through present and future students who will benefit from this focused initiative. Our partnership with World Vision goes as far back as the tsunami programme, when they provided assistance for the rehabilitation of affected schools. I thank World Vision for their long standing commitment to education particularly in rural Sri Lanka and for partnering with us to promote peace through education."
Through this MoU, World Vision will continue to support MoE endeavours, including projects undertaken via the provincial and zonal education departments and also promote Loving School Concepts ("Senehasaka Thaksalava") in all World Vision programme locations.
Commenting on the collaboration, World Vision Lanka National Director Suresh Bartlett said, "This is an important strengthening of our existing partnership with the Ministry of Education (MoE). Through this collaboration, we will continue to support MoE and provincial and zonal education departments to maximize impact in the education sector and promote peace and reconciliation among the large student populations."
The goal of World Vision's education sector is to educate children for life. In achieving this, World Vision works through 42 Area Development Programmes by focusing on Early Childhood Care and Development, in play schools and pre-school, followed up by supporting primary and secondary education which includes special education, development of life skills, entrepreneurial skills and vocational training and education for school dropouts and children living in vulnerable contexts.