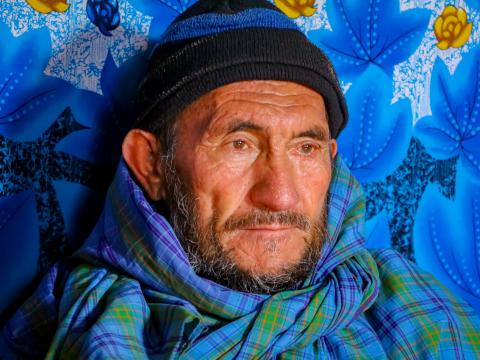 Assistance affects lives of the vulnerable population
Wednesday, July 28, 2021
When the war started in his place of origin, along with hundreds of his neighbors, 65-years-old Mohammad Ali fled with his wife and four children from his village in Ghazni province and settled in Khaja Sarbor village in Herat, Afghanistan.
"I remember our farm was set on fire and we were forced to leave the village without being able to take any of our belongings except the clothes we had on at the time."
"With the help of my children, I built a mud house, but I did not have the money to even buy windows or a door. I brought broken TV glasses from the city and installed them on the walls instead of the windows," Mohammad Ali says.
COVID-19 Pandemic put more pressure on his households' ability financially to have access to basic needs such as food.
"I was very disappointed and upset. After a long time of wandering and being displaced, I was able to get my life back to normal, but again the economic problems and lack of income reminded me of the days when I was forced to flee my village. When we were suffering from economic distress on one hand and COVID-19 outbreak stress on the other," Mohammad Ali says.
They started working as agricultural workers in saffron fields, but with the outbreak of the Coronavirus and the closure of international markets, saffron sales were also affected and the owners of saffron lands no longer had the desire to replant it. Mohammad Ali lost his job!
The dire financial situation, the increasing prices of foods caused by the COVID-19 pandemic all placed a mammoth challenge on Muhammad Ali and his family. 
World Vision's cash assistance 
Mohammad Ali is one of the hundreds of people living in Khaja Sarbor village, a remote rural area in Enjil District. He is one of the direct beneficiaries that received cash assistance from World Vision Afghanistan. With the assistance of 180USD per household, the program aims to assist 200 vulnerable households in Herat province.
Mohammad Ali and his children had moved to Herat with the hope to start a new life. However, this never was! In this dark situation, World Vision cash assistance was able to provide some form of recovery and bring hope for better days ahead.
"They [World Vision staff] came to our house and assessed our situation. However, I was not sure if they could help me. Until a few days later, they announced that I should go to the distribution center to receive cash. I was shocked and very happy at that time. I quickly got to the center," says Mohammad Ali.
In order to provide immediate food security and livelihood assistance to support the most vulnerable Internally Displaced Persons and their host community, World Vision Afghanistan has distributed 180 USD to each family. This assistance has significantly contributed to ensuring that these communities are able to contribute to the wellbeing of their children and meet their day-to-day needs. 
"And with this money, joy and hope returned to my family. At least for a while, I can provide food for my family. Even my two children did not have shoes. Maybe I can buy shoes for them. "I am very grateful to those who made this good deed, who remembered me and others like me in these difficult times."  Says Mohammad Ali.