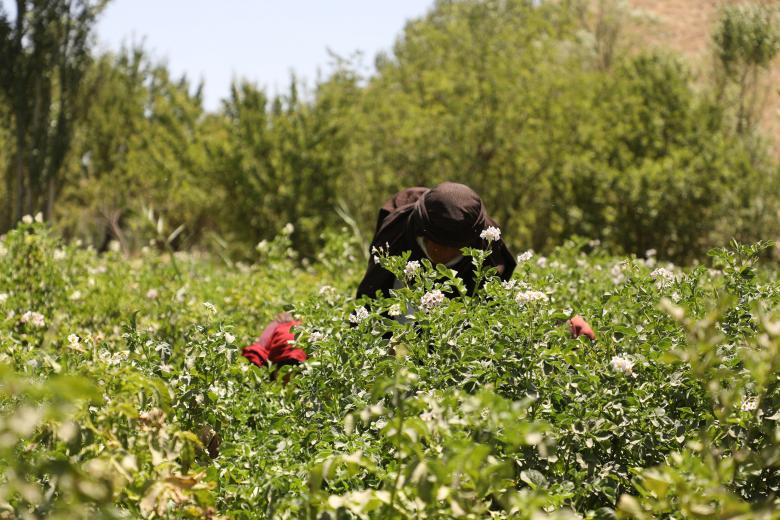 Income restores bad outcome
Thursday, August 11, 2022
Gul Afroz, 60, is the breadwinner for her eleven grandchildren and their mothers. Her elder son passed away last year and left eleven children and two widows behind. She has two other sons who are searching for jobs without much luck.
"I take care of these children and the entire family, sometimes our relatives would help us with food but we couldn't rely on their generosity," says Gul Afroz.
Life in Badghis Province is very hard for everyone. Daily struggles to earn for basic food put Gul Afroz in despair. She would work hard but couldn't make the ends; most of the times she could hardly provide one meal for her grandchildren. "We could not even afford buying 2 kg of potatoes," she adds. "When farmers in our neighborhood were harvesting their chickpeas, we would enter the farms afterword and collect the remaining ones from the ground and were cooking, which most of the time was not enough for one meal."  
Making ends for living was becoming unbearable; the family was suffering because of the poor income. Gul Afroz was ready to die hearing her younger grandchildren crying for food. At the age of 60, she could not rest for a short while. If she would take a break, her grandchildren would sleep empty stomach.
The support for Gul Afroz and her family came unexpectedly. World Vision Afghanistan reached out to her to provide support to manage the piece of land her family owns. This land never brought any income to the family even when they would put huge efforts to grow any type of crop.
World Vision, under FRAMES (Fostering Resilience in Afghanistan through Multi-Sector Support) project supported by BHA (Bureau for Humanitarian Assistance), trained Gul Afroz to be a successful farmer. She received potato tubers and vegetable seedlings, farming tools and chemical fertilizers for her to become self-sufficient.
"First, we were trained on how to cultivate the land, scatter chemical fertilizer, soften the ground and harvest. Then we received some seeds and chemical fertilizers. I cultivate potato, wheat and vegetable and irrigate the land. I cultivate with my shovel and other tools," Gul Afroz says. She is not alone working on her farm; her grandchildren also help her.
Gul Afroz starts working on her farm after breakfast. Then she takes a break for launch and gets back to work until evening. She irrigates the farm, softens the ground and does other work. When time for harvest comes, Gul Afroz collects the products with her grandchildren and sells in the village. Sometimes their neighbors help them to sell the products. "With the money I buy flour, rice, cooking oil and cloths," she tells us.
The income she makes from the farm lasts for six to eight months. Closer to winter all reserved food and money finishes. "We were struggling for a meal every day, but with God's help we managed to cultivate the land and survive. Though the income is not enough for the whole year, we are so hopeful we can grow more in coming years. My family is very grateful for getting this opportunity," says Gul Afroz happily.
The land that now brings considerable income to Gul Afroz once was useless; whatever they tried to grow before, they did not benefit from it. "We are very happy for this support and are blessed with it. I am afraid without this support, we would not survive this year," she adds, "We would have suffered and struggled a lot for food if we were not supported. World Vision gave us hope for life."