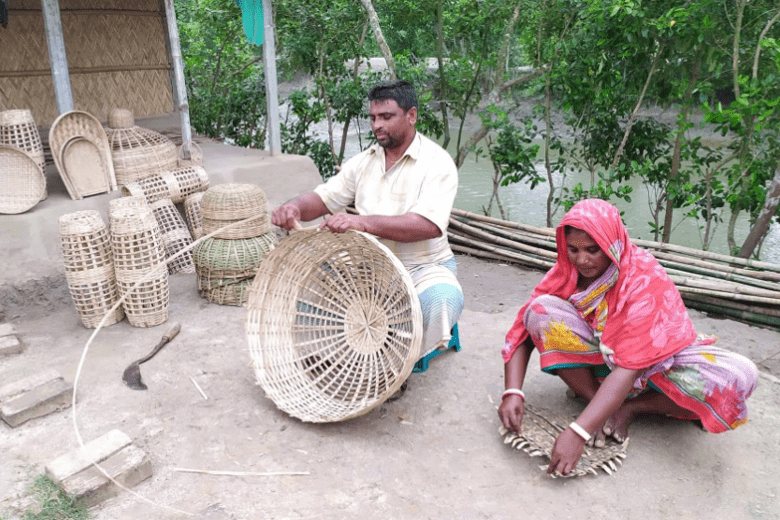 Graduating to resilience one step at a time: Sushma and Rabindro's story
Monday, October 11, 2021
In some parts of southwest Bangladesh, between 24 and 25 percent of households live below the poverty line of $1.90 a day. At this level of poverty, called "ultra- poor," events like natural disasters or an injury that requires urgent medical care can be catastrophic. This was the reality for Sushma (42) and her husband Rabindro (47). The family struggled to make ends meet on Rabindro's income of approximately $59 as a seasonal daily wage laborer working on farms. The couple had to take a loan of $600 to pay for their daughter's marriage and this created huge financial pressure as the household struggled to pay loan installments. Eventually, their two sons Nitin and Swapan also stopped going to school – as there just wasn't enough money to pay for uniforms and books.
But now, many "ultra poor" households like Sushma and Rabindro's are radically transforming their lives, thanks to Nobo Jatra, a five-year food security and development program implemented by World Vision and funded by U.S. foreign assistance. As part of its "ultra-poor graduation" activity, Nobo Jatra has helped 21,000 women develop the business skills (including basic literacy and numeracy) and minimal startup costs needed to help them launch small businesses. To begin, Sushma was enrolled in a 9 month entrepreneurial literacy course where she learned basic math and business skills. Nobo Jatra's ultimate goal is to reduce malnutrition, but to make that a reality, thoughtful and empowering approaches are taken that get at the root of poverty. During the entrepreneurial literacy training, Sushma also learned about the importance of nutrition, positive hygiene practices such as maintaining a safe, clean latrine, hand washing and safe drinking water. Messages on child marriage, including the dangers, how to report cases or how to find authorities to intervene, were also interwoven into the training module. This hit home for Sushma, who had to marry her daughter at a young age.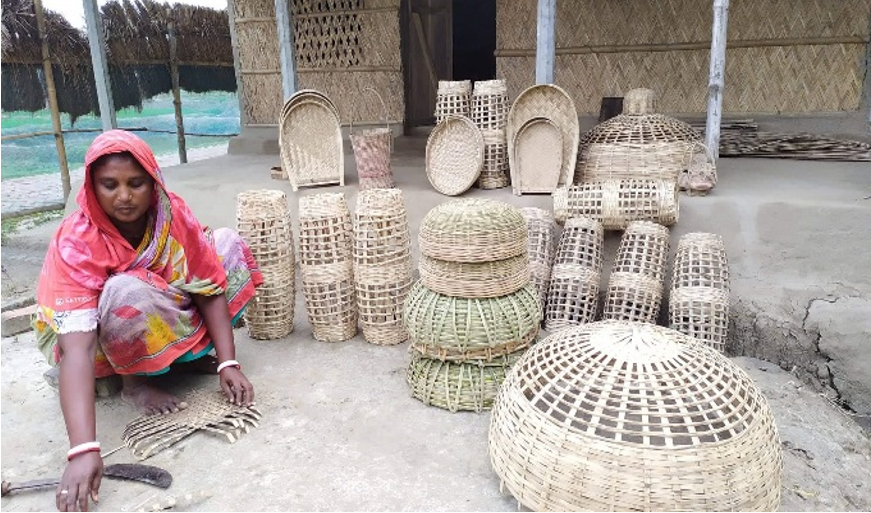 "From the nine-month literacy course, I have learnt about the dangers of early marriage, the importance of schooling for the children and being prepared for disasters" recounts Sushma.
In addition to entrepreneurship, as part of Nobo Jatra's training, families learn about the dangers of child marriage and know to report it or how to find authorities to intervene. This hit home for Shabitri, who was married to Arobindo when she was 11.
"Child marriage was common," she says. "But from Nobo Jatra, I know the demerits. Girls must be married after 18. The difficulties I faced in my life came from child marriage."
The impacts of rapid population growth, climate change, and pressure on natural resources are increasingly forcing rural households served by Food for Peace out of agriculture. Simultaneously, these same pressures require farming and non-farming households to become more resilient. Strengthening and diversifying livelihoods can address this double challenge by increasing assets and income, reducing vulnerability to specific hazards, and helping households manage risk. This is one of the main reasons that Sushma used her training and startup money to establish a bamboo weaving business – a trade that has considerable market demand in Bangladesh.
Through the business, Sushma now earns $110 per month, and is confidently keeping accounts in a ledger. Rabindro, Nitin and Swapan have all picked up the bamboo weaving skill and are involved in the business. In fact, the family are now known as skilled crafts people in the area.
Through Ultra Poor Graduation, over 6,405 women have graduated out of ultra-poverty and established sustainable, market driven income. Households have seen an increase of 42% in their monthly income – a considerable rise considering that participants are women, often widows or those that are destitute, who are from the lowest subset of the extreme poor, typically subsisting on below $1.90 per day.
Yet another turning point was when Sushma joined a Village Savings and Lending group – which allowed her to access financial services to diversify and expand more income earning opportunities. This also helps the family counter personal financial crises and unforeseen risks, thereby increasing chances of graduating out of ultra -poverty. Sushma saved11.27 every month and has saved $83 so far – and also took a loan of $71 to buy more raw materials for her business.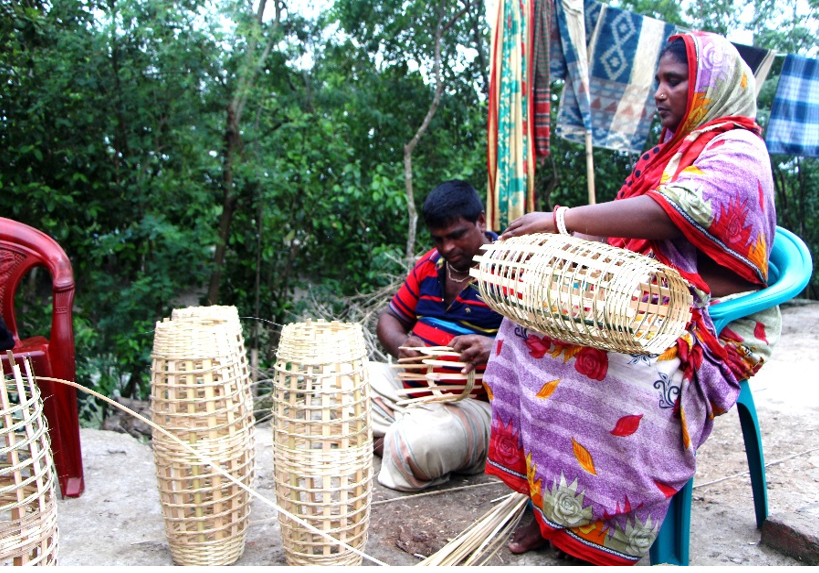 "For my daughter's wedding, it took us two years to repay the loan with 14% interest. Now, we can easily access loans through the savings group and we can pay it off easily" says Rabindro. Importantly, the couple now understand the risks of taking loans from 'money lending associations' that take higher interest on loans.
The ultimate dream for Sushma and Rabindro is to purchase five decimals of land where they can build their own home.  "Now we will work towards growing our business, so we can save and buy land. A place to call our own."