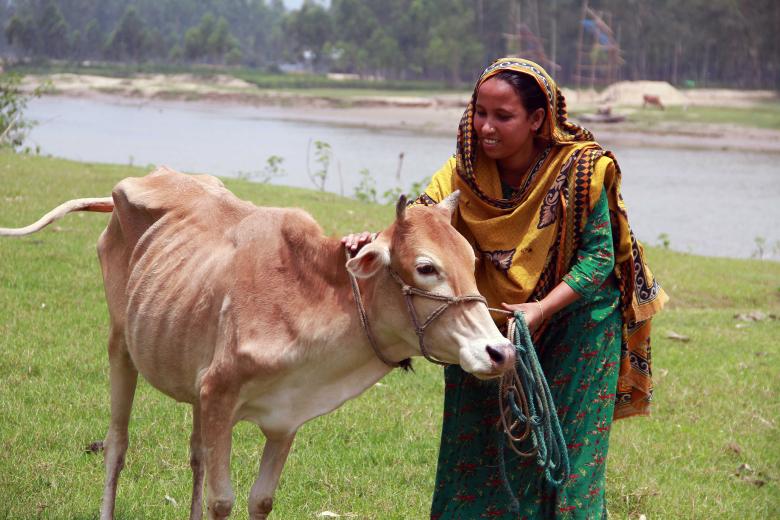 Mousumi, an example for others to follow
Tuesday, July 23, 2019
"Now I do not need to depend on my husband's income to buy vegetables to meet daily family needs, as I have enough vegetables in the garden in my yard. It is a big change in our family," says Mousumi, 29, a member of Ultra Poor Graduation group under the Shribordi Area Programme. 
Considering her family's living condition, the Village Development Committee (VDC) members selected her as one of the Ultra Poor Group members. As a member of this group, she received a dairy cow with a calf from World Vision in order to enhance the socio-economic condition of her family. She is getting benefits from this dairy cow. She says, "This cow gives us a liter of milk every day. We sell a half of liter, and use the rest of milk for our children to meet their everyday nutrition needs."
"We spend savings money from selling milk for buying educational materials for my older daughter Kobita, 7, who studies in Grade – II at a Madrasa," she adds. 
Her living conditions were not as good as they are now. She used to work at a garments factory in Gazipur at low payment. There at garments factory she met her husband Kabir, 33, where they came to know each other, and finally got married. Her husband still works at a factory on a temporary basis where he earns 200-300 taka (USD 2.5-3.75) per day. She stays home in the village with her two daughters. They are landless. They are living on land that her grandmother-in-law donated for them.
Along with the other 24 members of the Ultra Poor Group, Mousumi received training on vegetable gardening, nutrition and disaster preparedness from World Vision. She is now applying the knowledge and learning of training in vegetable cultivation. Mousumi states, "I cultivate various types of vegetables round the year on my home yards. I do not keep any piece of land abandoned. I utilize properly every piece of land for vegetable gardening. But earlier of training it was unknown to me."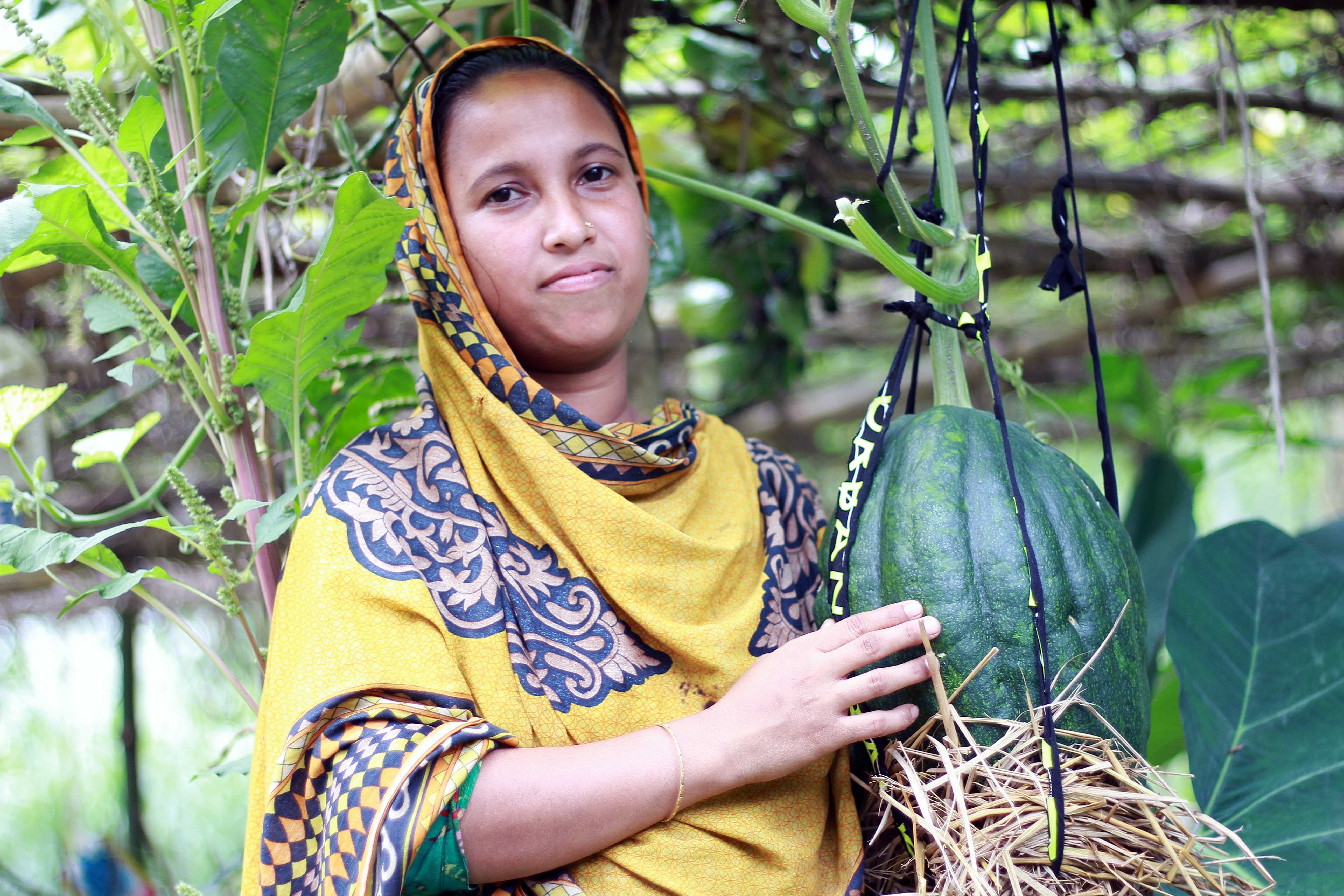 "My husband started supporting me in vegetable gardening when he observed that no longer we require to buy vegetables for our family. He realized the benefits of homestead gardening," reveals Mousumi.
Many a woman in her (Haluahati) village are following Mousumi as a model. They are also initiating vegetable gardening. They come to her for help. She says, "I have provided seeds of Indian Spinach, Long Bean to the women who came to me for help from outside of my program." 
Now we live in peace in our family. We do not quarrel. Our two daughters go to school.
Mousumi says of her family life now, "Now we live in peace in our family. We do not quarrel. Our two daughters go to schools. Younger daughter is attending the World Vision facilitated Learning Roots Centre. I dream my older daughter Kobita will become a school teacher, and younger daughter Nusrat, 4, will become a doctor after completing their education."
"I express my sincere thanks to World Vision for showing me ways to move towards self-dependence," Mousumi says.