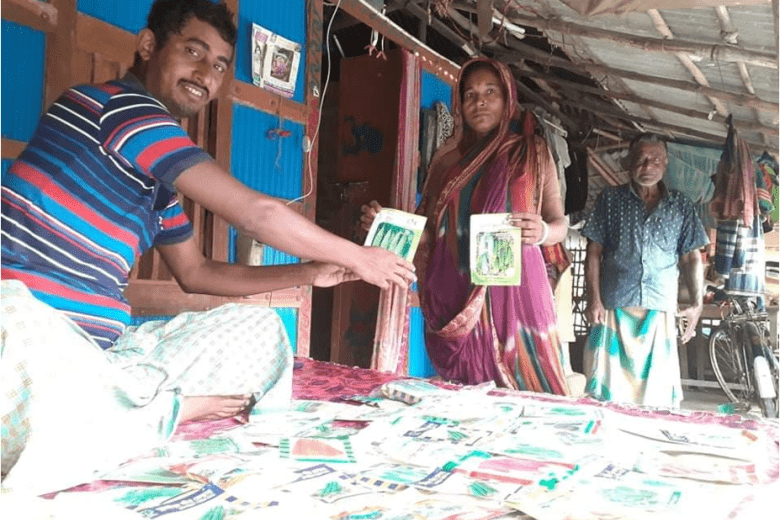 USAID's Nobo Jatra project supports local entrepreneurs through win-win relationships with the private sector and local farmers
Tuesday, October 12, 2021
Susanto is 42 years old and lives in Tildanga village in Dacope a sub district in rural southwest Bangladesh.  After Grade 5, Susanto was unable to continue school as he had to start helping his father on the family farm. Despite hard work in the fields, production was low and Susanto was always thinking of ways to increase yields. Aged 20, Susanto took a loan of $54 from a local NGO and started selling snacks at local markets across Dacope and neighboring areas. Susanto quickly realized that crop production was higher in areas that had access to quality seeds. Seeing this as a business opportunity, Susanto started selling seeds at local markets and he earned $37 a month.
Things changed in 2019, when Susanto received training from USAID's Nobo Jatra project, implemented by World Vision Bangladesh. Susanto learned about business planning, quality seeds, crop production technologies and the benefits of providing embedded services to producers. As part of the training, Susanto was introduced to the sub district Agriculture Officer and representatives of large, national seed companies.
Susanto began collecting good quality seeds from companies such as AR Malik Seeds, Lal Teer Seeds, ACI and Syngenta to sell at weekly markets. To further enhance sales, Susanto is able tell to us what he has learned from the training and the sub district Agriculture Officer to advise farmers who purchase seeds – on production techniques such as bed preparation, sowing seeds, safe fertilizer usage and to market high yielding, saline and pest tolerant crops. Susanto's income increased to $67 a month.
As a trained Mobile Seeds Seller, Susanto teaches farmers about the benefits of hybrid seeds, and how to ensure proper soil health and plant density to achieve optimal yields. "It's easy to convince farmers of these advantages; but it's harder to convince them to pay for a packet of seeds. They're used to saving seeds from their previous harvest, but those crop varieties are low-yielding and vulnerable to pests and disease. These hybrid seeds are a good investment."
The numbers back it up: bitter gourd seeds costing $1.7 can cover 1 decimal of land, but can produce 60 kg of harvest worth $15. "Once farmers witness this return on investment, they are more willing to pay," says Susanto.
Meanwhile Susanto is earning profits on sales. "When I started, I was selling 200 packets per month, so earning income of $37; now I'm selling 450 packets and earning a monthly income of $77."
"The best part is that I can increase my income by encouraging more farmers to buy these seeds and expanding into new communities. I also keep the phone numbers of my previous customers so I can call them back and encourage repeat sales. These farmers depend on me – and I depend on them!"
With USAID support, World Vision work to strengthen local systems, through entrepreneurs such as Susanto, Government Agriculture Extension Officers and the private sector to ensure that quality inputs are available in local markets and that farmers understand the value of investing in good quality seeds.