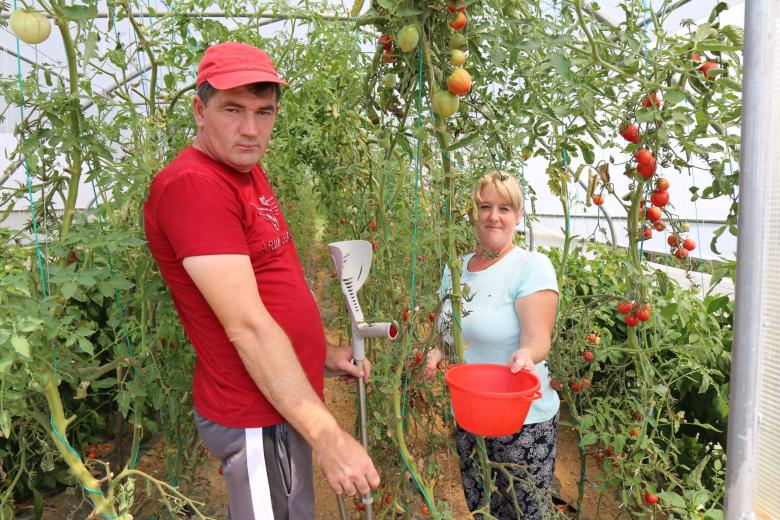 Three families harvest fruits of their hard labor
Thursday, September 26, 2019
It is tomato harvesting season in northern Bosnia and Herzegovina. Hard work has paid off for three families who have grown produce in the greenhouses received through the EU funded project "Integrated socio-economic support to mine victims in BiH". For the past month, they have been selling tomatoes and peppers and during the spring, they grew and sold seedlings and lettuce. For some of them, the income from selling produce form the greenhouse equals the total annual disability allowance.
Rolling hills of village Podzvizd in Velika Kladusa Municipality where families Omeragic and Husidic live are picturesque. However, as families confirm, it is very difficult to grow tomatoes without a greenhouse. Morning fogs and dew, along with the high noon sun all damage the produce.
"We tried to plant vegetables in the open field which was twice the size of the greenhouse we use now, however we harvested much less ", says Mirsad.
Mirsad and Šaban are neighbors and they are both landmine survivors. Mirsad Omeragić was injured in his neighborhood, in an area that was not marked as mine hazardous area at the time. After the incident, the area was cleared, but Mirsad is reluctant to go there because he fears that some mines are still there.
After had been through 13 surgeries in the 6 months period, Mirsad was on his path to recovery. Since then, he got married and he and his wife raised two children, daughter aged 15 and a 19 year old son.
"We are proud of our children, they are well behaved and we are truly grateful", says Mirsad. His pride is evident as he explains that the younger one, their daughter, takes care of the house and the older one, their son takes care of the lawn, leaving parents the time to take care of the farm animals and the greenhouse.
The smaller portion of the produce from the greenhouse they use for own consumption and the larger portion they sell. "People come here and ask about the produce, and we managed to sell a lot", says Mirsad.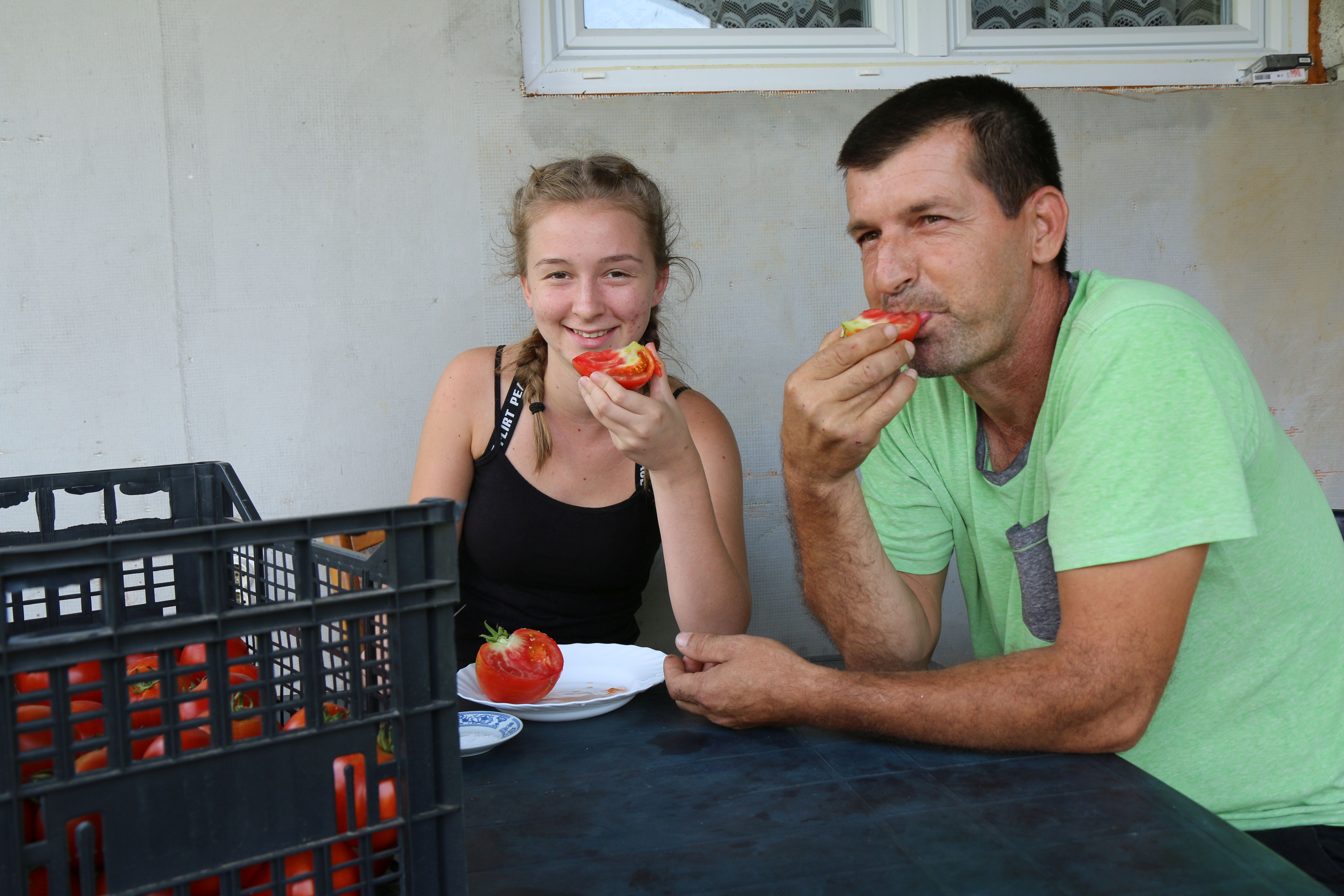 Šaban, landmine accident survivor, and his oldest daughter taste the fruits of their labor.
The municipality of Velika Kladuša is located in the north of the country, on the border with Croatia (member of the EU), which makes local vegetable producers available to interested buyers from the neighboring country.
"A man from Croatia bought tomatoes and peppers worth 100 marks from us", says Šaban, head of the Hušidić family.
Four members of the Husidic family, two daughters and parents, are taking their afternoon break on the porch in front of their house, testing and tasting the tomatoes they harvested. Their youngest child, a three-year-old son is sleeping in the house. The older daughter and the father Saban are enjoying their tomatoes in a rustic style, with just a little bit of salt.
Šaban estimates that they earned 1.300 BAM from the produce they sold since July, and they hope to earn as much by the end of the season.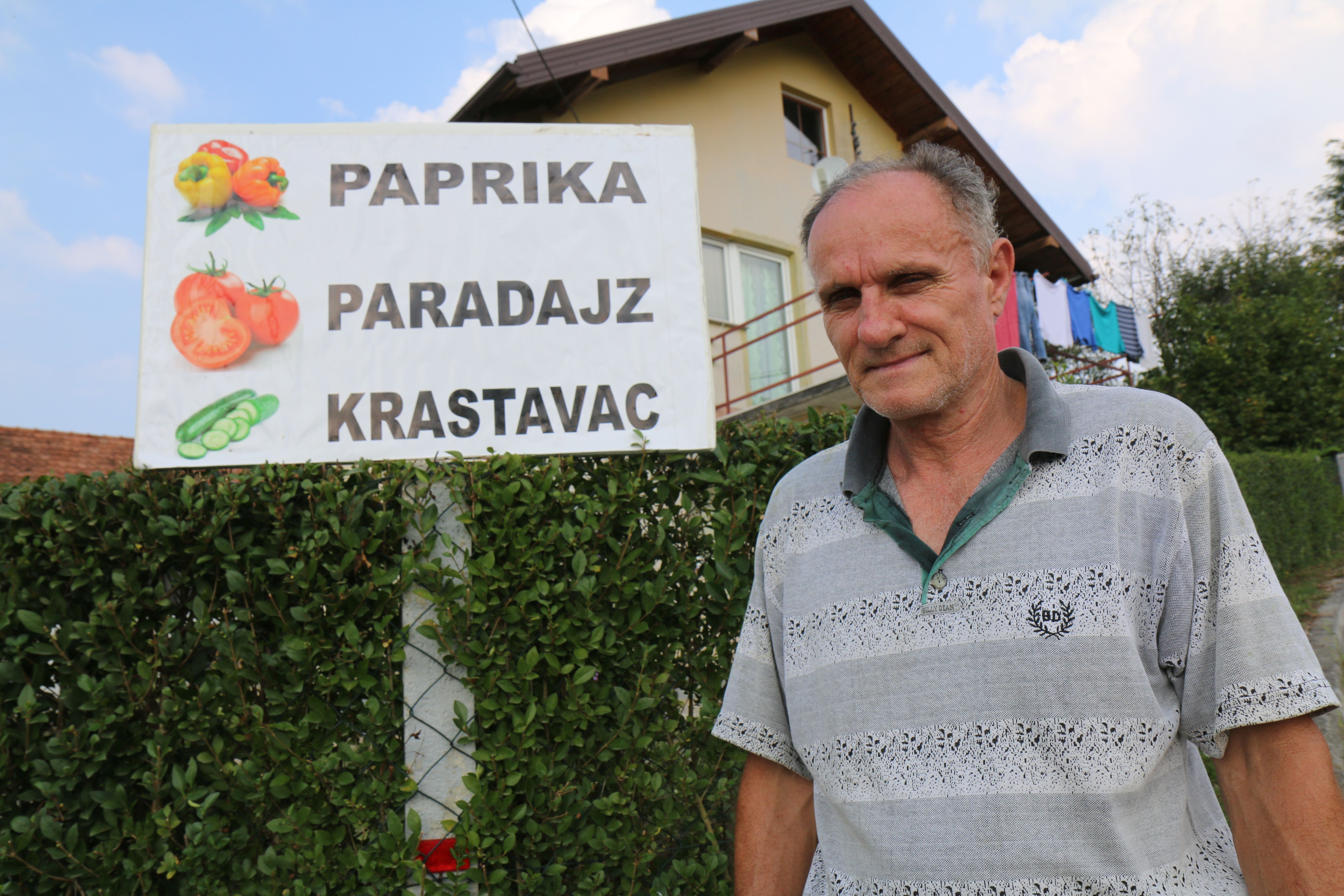 Dragan, landmine survivor, poses next to the sign announcing "vegetables for sale".
"I am happy with the income, especially given that this is our first year ever to grow vegetables in the greenhouse", says Saban.
Šaban was injured in a mine incident in 1994, at the age of 15. He lost his father and his brother during same year, which made Šaban's recovery more complex. Šaban has status of a civilian war victim in BiH and he receives disability allowance amounting up to 200 BAM, which, for a long time, was the only source of income for his family. Thanks to the project support, his family doubled their annual income this season.
"By the time we pay the bills, my allowance is gone. This is why we raise the cattle and do other odd jobs. This additional income will help us pay for school supplies and clothes for the children, and transportation the school", says Šaban.
Okanović family is also from the municipality of Velika Kladuša who received farming equipment, a greenhouse, a plant watering system and a motor tiller. The head of the family Dragan, a landmine survivor, spent an entire spring and summer season plowing, tilling and growing produce. His first products were seedlings and he managed to sell it all. Now, it is pepper and tomato season and it is evident Dragan is proud of his work – a large printed sign in front of his family house announces "produce for sale" here.
This late summer and fall harvesting season and the demand for their home-grown produce has put these three families at ease. Their hard work enabled them to prepare their children for school and the households for winter and brought peace to their minds.
European Union, World Vision and UDAS supported 10 landmine survivors in the project municipalities in vegetable production. This is only one activity implemented under the project "Integrated socio-economic support to mine victims in BiH" aimed at providing for socio-economic empowerment of landmine victims and their families in 11 mine-affected municipalities in BiH.