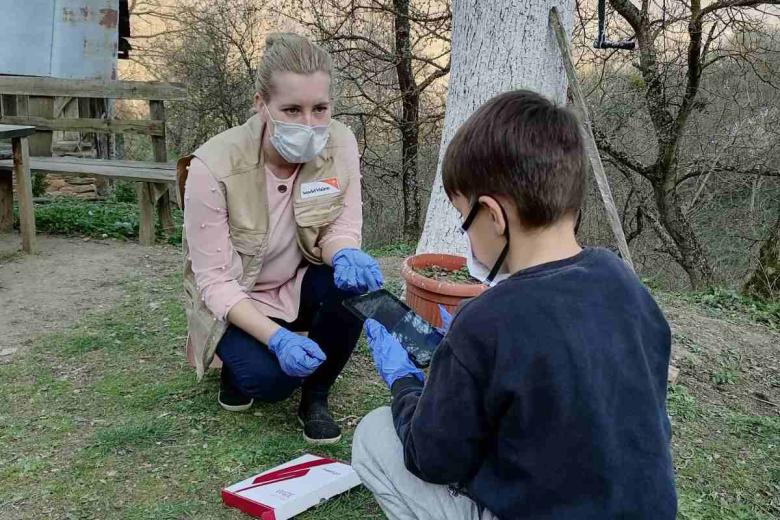 World Vision BiH continues to serve the needy during coronavirus outbreak
Thursday, April 16, 2020
The streets are nearly empty this morning in Sarajevo, the capital of Bosnia and Herzegovina (BiH). But one of the few cars on the road bears the insignia of World Vision BiH: Adnan Salihagic, a community facilitator and World Vision BiH employee for the past 15 years is traveling from the suburbs of Breza to the nearby town of Vares.
Adnan is alone in the car, but his face is covered by a mask and he is wearing gloves. "I go nowhere without protecting myself anymore, wearing a mask, gloves, and additional protective equpment has become the new norm", he says.
Adnan is a husband and a father of two, a girl aged 8 and a boy aged 5, both of whom sometimes find it difficult to understand their father's work-related travel in a time of state-imposed movement restriction.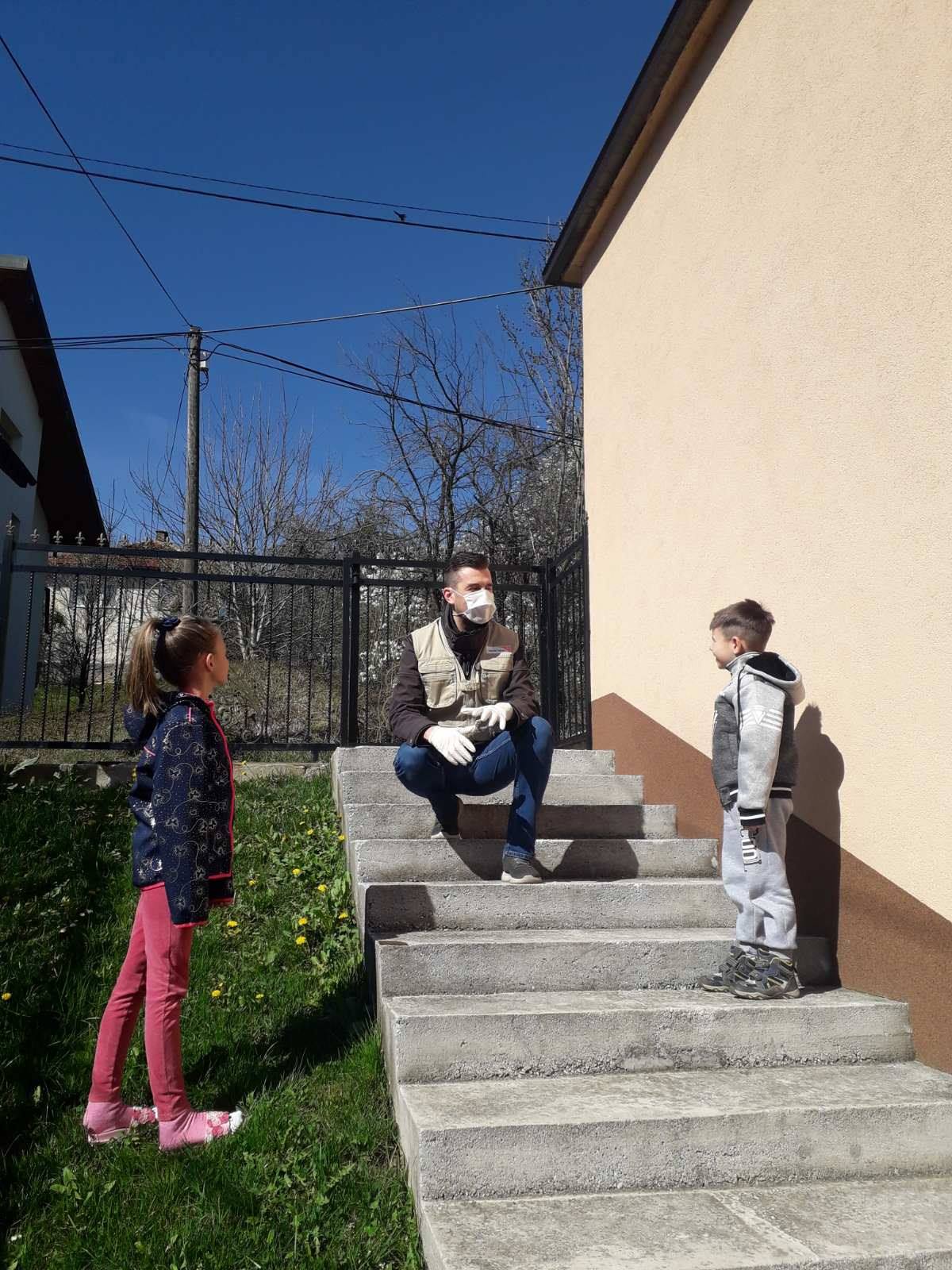 Adnan explains that he is being careful and that he has the support of colleagues who are in charge of staff security.
At the same time, on the other end of BiH, in the vicinity of Tuzla, Nina Zupan is traveling to a distribution point. Nina is also alone in her car, and she, too, wears a mask, gloves, and additional protective equipment. She's under a lot of pressure to get things done, but she's happy to help those in need.
"It's not easy to stay calm and focused in such situation. Work conditions are changing and everyone one of us reacts differently in a crisis. I try to do my job to the best of my ability, but what bothers me the most is the isolation at work. I miss sharing information with my colleagues immediately when I need advice", Nina says.
Due to the global COVID-19 pandemic, Bosnia and Herzegovina has announced a state of emergency, and has closed its borders to non-citizens, while a 14-day quarantine is mandatory for citizens entering the country. Schools and colleges are closed but, where possible, lecturing continues online. The movement of children and elderly people (aged 65 and older) is strictly prohibited, and there is a state-imposed curfew. Social isolation and maintaining physical distance is strongly recommended at all times.
That hasn't kept World Vision on the sidelines, and people watch through their windows as another World Vision BiH car passes down a village road near Gorazde. Edisa Ahmetspahic, a World Vision BiH community facilitator, is checking on the most-vulnerable children and families. Due to a shift to online schooling, she scheduled the personal distribution of tablet-computers to children in 20 families who otherwise wouldn't be able to continue schooling.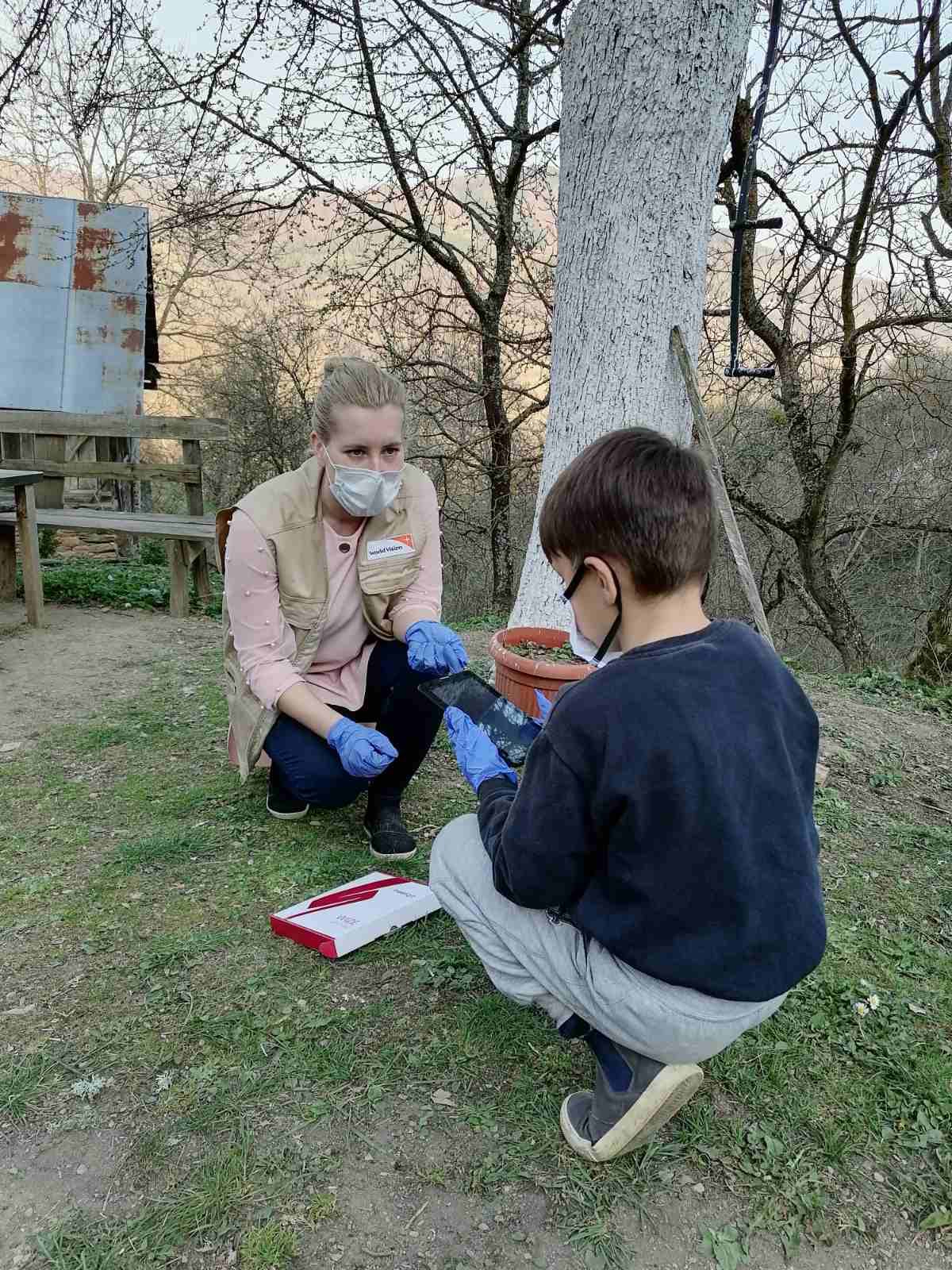 "Being a child from a single parent family, I've faced many difficulties growing up that inspired me to be a help the needy. I feel the constant desire to further educate myself in the domain of my profession, and offer all my capacities to World Vision BiH, an organisation that provides aid to children and families living in adverse conditions",  Edisa explains.
Before taking the trip, Adnan, Nina and Edisa phone the staff security officer, discuss the situation on the ground, plan a detailed travel route and the safest possible way to distribute essential food to families in need, packages with protective and disinfectants to essential workers at the local level, or other intervention. "The situation changes daily, but we are trying to be one step ahead and anticipate the changes that are happening on the ground, so that in case of an emergency, we have a ready response and solution. Every time my colleagues go to the field, I remind them of the security protocol we developed in the first days of the crisis", says Darko arsenovski, a staff security officer at World Vision BiH.
The Staff Security Protocol prescribes ways of self-protection for World Vision BiH personnel during the COVID-19 pandemic caused crisis and requires employees to use protective equipment, maintain physical distance and plan detailed routes in cooperation with the Staff Security Officer.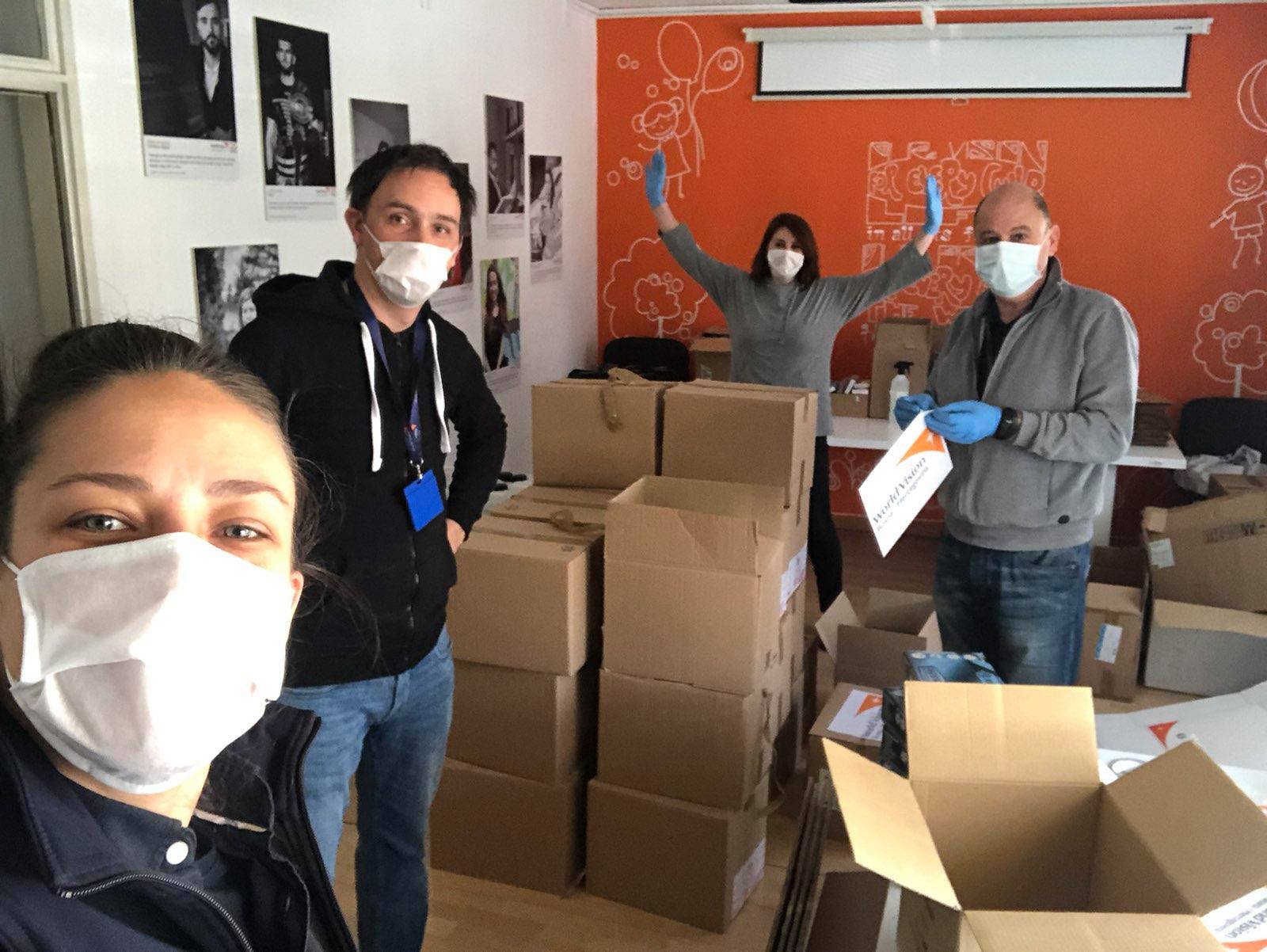 "We feel that we are at the forefront of the organization's priorities and that our safety is paramount. I am an activist, and sometimes I have the instinct to help others first, but we have colleagues who warn us, equip us and prepare safety protocols" says Nina Zupan, a World Vision BiH employee who coordinates the distribution of essential food and safety equipment in the Tuzla area.
In BiH, the pattern of transmission of coronavirus is still at the cluster level. However fear of overloading of the health system is evident in the public communication of the heads of the state institutions. Working in the field during the COVID-19 pandemic is entirely voluntary.
"We are attached to the communities we serve, it is inevitable that become attached and feel these communities your own. Whenever there is a possibility to help these communities, I absolutely accept that, following the security protocol, I visit the field and provide support to the vulnerable families, and especially the children in our program", explains Adnan.
 "I had the opportunity to visit families in need, multi-member families with low or no income, families with children with disabilities, or entire families with certain disabilities. It is good that the institutions on local level are well-connected and that we try not to duplicate, but to help each family from different sides. This situation shows how the cross-sectoral cooperation we have previously invested in works, "Nina says.
In cooperation with local municipal institutions, well-fare centers and schools, World Vision BiH assessed the situation of families whose children were included in the WV sponsorship program, and provided supplied them with essential groceries and hygiene packages. A total of 600 families in communities in the 17 municipalities received assistance - Banovići, Breza, Doboj, Doboj Istok, Goražde, Hadžići, Ilijaš, East Novo Sarajevo, East Ilidža, Kalesija, Lukavac, Pale, Petrovo, Prača, Sapna, Vareš and Zvornik. In accordance with limited resources, in the past period, World Vision BiH also provided basic food, protective and hygiene products to 300 Roma minority families across BiH.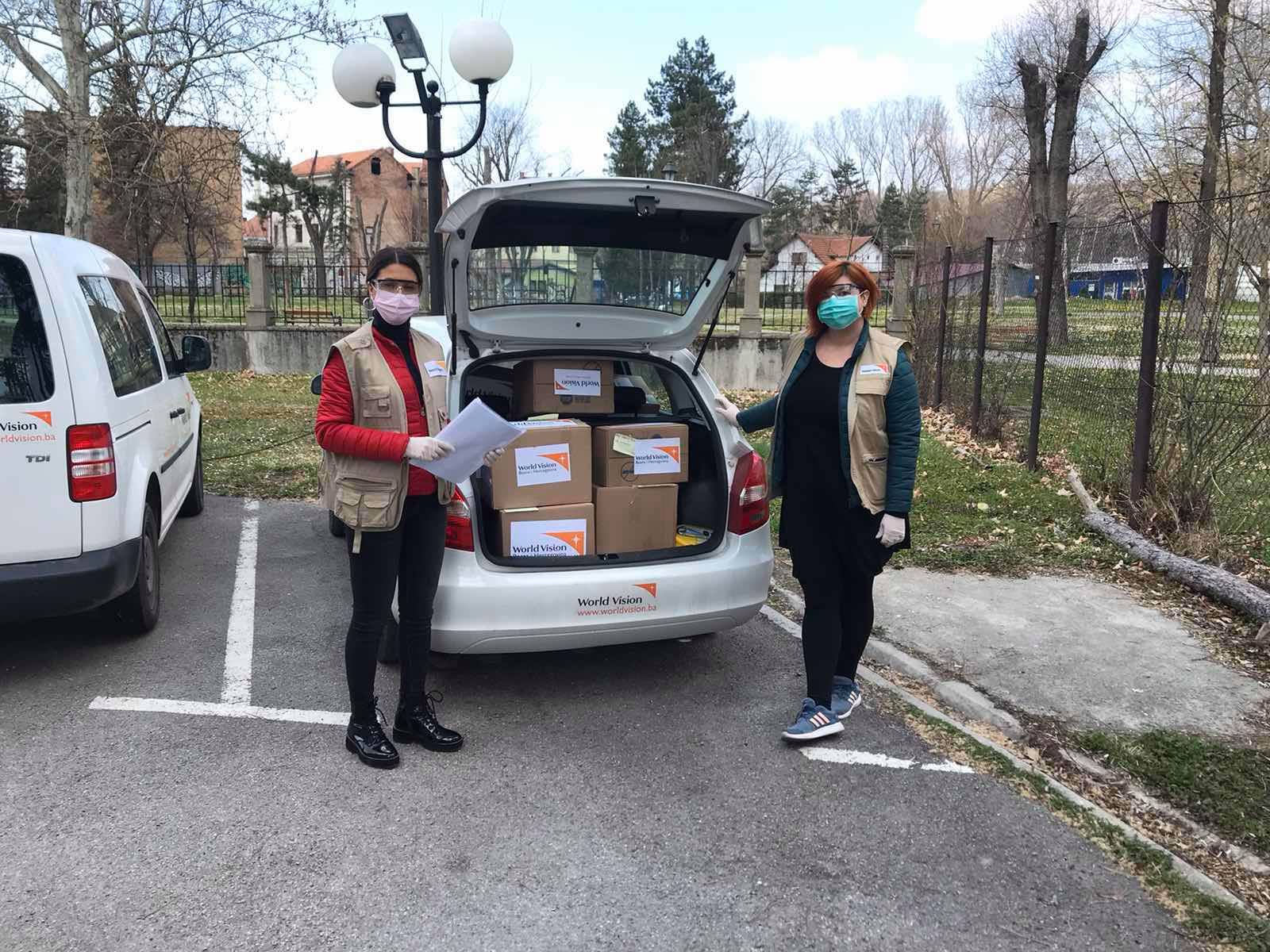 "In the whole situation we are in now, it is inspiring to me that the organization I work for has directed all of its capacity to protect and help vulnerable children, families and communities we serve. That is why, my job is not limited to 8 working hours, I live it 24 hours a day, instead", says Edisa Ahmetspahić.
Previously, World Vision BiH responded to the flood crisis of 2014, the refugee crisis in Serbia in 2015, and is currently responding to the migrant crisis in BiH. The current comprehensive response to the coronavirus crisis is more complex due to state imposed movement restrictions, curfew, health-risks, as well as the WV BiH security protocol. Currently, many unknowns regarding the ways in which the virus is transmitted indicate that one hundred percent protection is not possible at this time.
"There is no fear, I am not afraid, but I am cautious and respect all the recommendations of healthcare organizations. During my pilot training I learned that fear is the enemy and that it is holding you back, not allowing you to think rationally. Caution is, however, recommended", says Adnan Salihagić.
In addition to the need that vulnerable families have for basic groceries and hygiene items, a number of parents of vulnerable children are not able to provide the necessary IT equipment to help their children continue their education from home.
Aiming for uninterrupted education for vulnerable children, World Vision distributed 99 tablet-computers to the children involved in the sponsorship program.