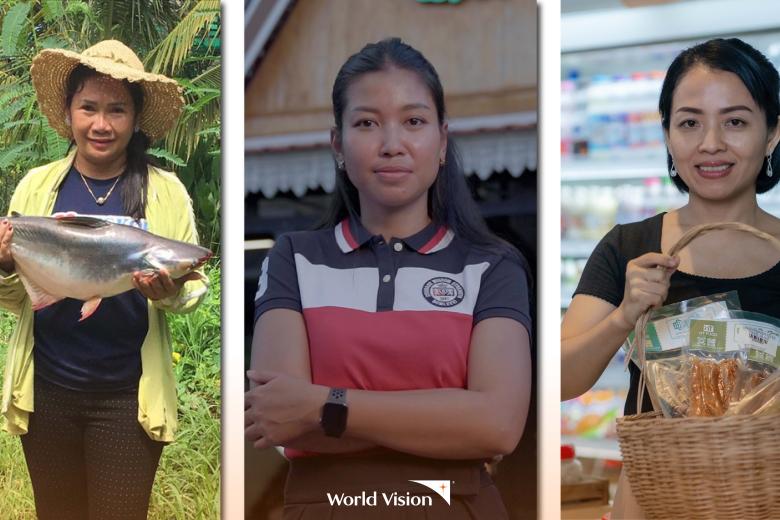 Women entrepreneurs: Embracing empowerment & breaking barriers
Saturday, November 18, 2023
Celebrated annually on November 19, Women Entrepreneurs Day acknowledges visionary women who not only contribute to strengthening the economy but also act as agents for change in their communities and mentors for aspiring female business leaders. The societal landscape is shifting, and more women are venturing into entrepreneurship than ever before. Constituting a significant 58 per cent of the GDP and playing a vital role in job creation, Small and Medium Enterprises (SMEs) are vital to Cambodia's economic development. 
On this special day, we invite you to join us in honouring some of the remarkable women entrepreneurs who are part of World Vision's programmes. In Cambodia's ever-evolving economy, these women are creating a more inclusive and diverse business environment, paving the way for future generations of aspiring female leaders. 
"Embracing Empowerment – Breaking Barriers" is a resounding call to recognize the transformative power of these women entrepreneurs. Through their ventures, they not only contribute to economic growth but also challenge norms, redefine gender roles, and inspire the next generation. 
Mrs. Chakriya Phal - Sna Dai Me (SDM): Nurturing Tradition and Inspiring Innovation 
Mrs. Chakriya Phal is the proud owner of Sna Dai Me (SDM), a prominent distributor specializing in the supply of fish products to over 100 supermarkets nationwide. The inception of SDM dates back to November 2018, marked by the simultaneous establishment of two additional branches, a venture undertaken in collaboration with her husband and their two young sons. Drawing upon her educational background and years of valuable experience in corporate settings, Chakriya spearheaded the creation of SDM and has since worked tirelessly alongside her team of nine accomplished female staff members. 
"The main purposes of this business are directed towards respecting the love of my mother, reducing the traffic of local chemical food products, increasing brand awareness of traditional Khmer food to domestic and foreign consumers, and bringing this tasty and safe food abroad," said Chakriya. 
Chakriya also shared that the SDM business model and strategy are framed to promote aquaculture products from the farm to premium and export markets. There is a strong emphasis on ensuring and strictly caring for human consumption towards food safety through adherence to food safety regulations for the supply of fish products. This engagement includes close collaboration with competent public authorities, commercial certification companies, and the development sector.  
As an outstanding member of the Cambodian Aquaculture Association (CAA) and Fish Trade Force, SDM has twice shared market information regarding the market demand for fresh fish during the provincial aquaculture business dialogue organized by ASA-ADT lead partner. 
However, the road to success has been paved with many challenges. Like other SMEs, Sna Dai Me was heavily affected during the COVID-19 outbreak with increasing costs of supply input and operation costs, as well as the indirect impact on household family income. The fluctuation of product prices in the market is a critical factor and impacts SDM adversely. 
 Chakirya explained, "We have strong business core values and a clear goal targeted at food safety, hygiene, and appropriate selling price. We support 95% of products supplied by the local community who are mainly young women, youths and students from poor families. This engagement has helped them improve their livelihoods and provide for their families". 
Supported by World Vision International in Cambodia's Commercialization of Aquaculture for Sustainable Trade (CAST) intervention in 2022 and 2023 was critical for the business. The support with marketing and branding helped SDM to improve and now supply to numerous premium markets throughout the country.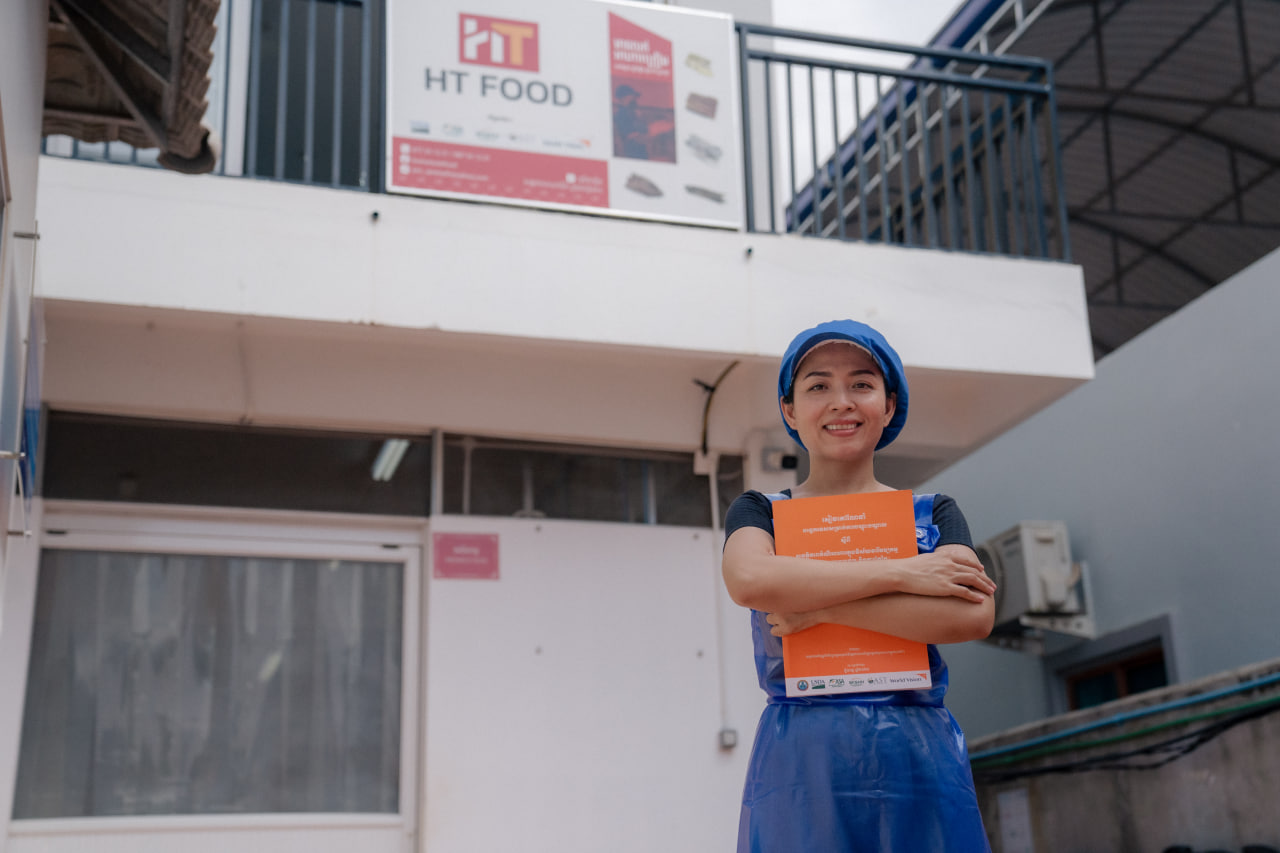 Mrs. Sim Sereirath - Home Taste: Preserving the authentic taste and recipes of Processed Fish  
In the heart of Siem Reap Province, Mrs. Sim Sereirath, a resilient entrepreneur, is crafting a success story through her venture, Home Taste—HT Food. Established in 2018, this processor and exporter has forged an official business partnership with Sna Dai Me, a collaboration solidified by legal documentation. 
For Sereirath, the journey is not just about business; it's a commitment to preserving the richness of local flavours and traditions. Using locally sourced ingredients, the aim is to elevate food hygiene and safety standards, coupled with the creation of impeccable packaging and labels, positioning selling to higher-end markets. 
Beyond the business, Sereirath wears the hats of a mother and a wife. Once a construction engineer, Sereirath's husband is now her trusted business partner, and together they navigate the challenges and triumphs of the expanding business.  
In the early months of 2023, an important moment unfolded for HT Food as it secured a loan from a local microfinance institute. This financial infusion fueled the transformation of their business, with a special focus on upgrading the processing facility to meet stringent food safety standards. The culmination of these efforts was evident in September 2023 when Home Taste Food Enterprise proudly earned the Cambodia Quality Seal (CQS) for food safety from the Department of Fisheries Post-Harvest Technologies and Quality Control (DFPTQ), operating under the Ministry of Agriculture, Forestry, and Fisheries (MAFF). 
With the CQS certificate in hand, Mrs. Sim Sereirath reported a significant leap in production, now averaging over 3,200kg per month. The growing demand is not just local; it extends across borders, with a substantial purchase order from Australian buyers for Cambodian dried fish, signifying a new chapter in their business expansion.  However, navigating the complexities of international trade requires additional support, and Sereirath is supported by World Vision Cambodia through the CAST project.  
As she reflects on the journey, the 40-year-old entrepreneur takes a moment to acknowledge the several hardships she and her husband overcame together. Her advice echoes a spirit of resilience and determination. "To all women facing difficulties, find the best ways to cope. Do not give up, dare to break barriers and stereotypes. Learning and doing business must go hand in hand. Keep improving yourself and keep your business up-to-date," said Sereirath.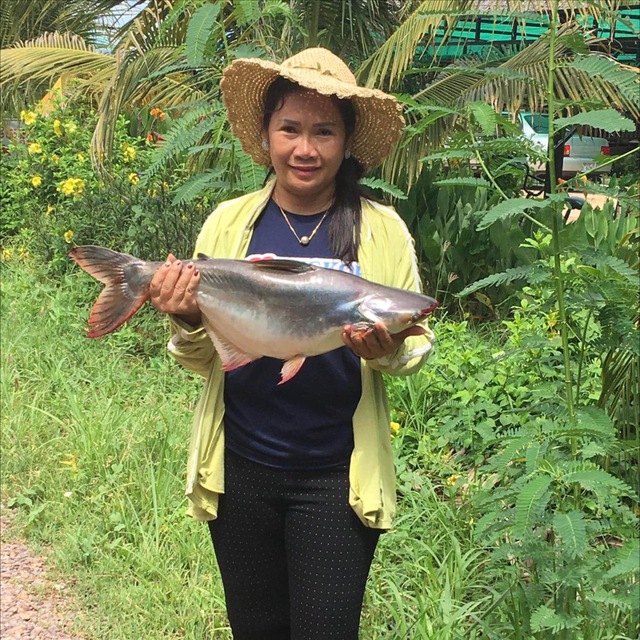 Mrs. Yada Keo - Rathada Farm: Cultivating Sustainability from Farm to Fork 
Rathada Farm, owned by Mrs. Keo Yada, along with her husband, operates on a farm-to-fork business model with 15 staff members benefiting from a salary range of $150-$250. They serve in both the farm and restaurant. Yada explained, "Besides providing sustainable incomes for the staff, child-friendly space, staff benefits with food allowance, shelter, and education are included in this business, complying with legal working hours since 2005. We started as a farm in plastic tanks at home, then transformed into a hatchery farm and resort in 2010." 
Due to Yada's strong interest in commercial aquaculture, she is committed to increasing fish production for year-round supply. Rathada has become a beautiful workplace where people can share new knowledge, skills, and communication. With the CAST intervention, technical assistance in marketing and branding, a matching grant with solar water pumping, borehole drilling, oxygen-generated solar, raceway system, and financial access with a loan from ADB within 5 years, along with technical training on Sanitary and Phyto-sanitary practices related to Good Aquaculture Practice and Good Management Practice, the commercial hatchery farm and restaurant are increasing production capacity for both fish and fingerlings. The farm today has received GAqP certification. 
In addition to being a businesswoman, Yada is the mother of five children. She is a role model in her community. Through her enterprising spirit, she has demonstrated that gender is no limit to achieving success. 
"I want to showcase the quality of our national products and highlight their competitiveness on the global stage. My aspiration is for women in Cambodia to actively engage in the agriculture sector, expanding opportunities and contributing to the improvement of our livelihoods. I extend a call to everyone to join hands in fostering the growth and development of the aquaculture sector," said Yada.  
Recognizing Achievements and Addressing Ongoing Challenges in Cambodia 
Recognising the vital contributions of micro, small, and medium-sized enterprises (MSMEs) and women-owned businesses to the economy, the Royal Government of Cambodia has actively implemented measures to support and elevate these sectors. Initiatives have been set in motion to empower women in business, including the integration of gender-related concerns into policies. Additionally, women in business now play prominent roles in government-private sector forums, policy and regulation dialogues, and consultations. 
While these accomplishments are commendable, there is still work to be done. Ongoing challenges persist, such as networking, continuous learning, and the dual responsibility of managing both business and family affairs. Many women entrepreneurs remain unaware of the educational and financial support opportunities available to them for the development and expansion of their businesses. 
As we celebrate Women Entrepreneurs Day, let's acknowledge the progress made and commit to further empowering and supporting the women entrepreneurs of today and the future. Wishing all the women entrepreneurs and those aspiring to join their ranks a "Happy Women Entrepreneurs Day!" May you continue to embrace empowerment and break barriers - continue to thrive and inspire future generations.