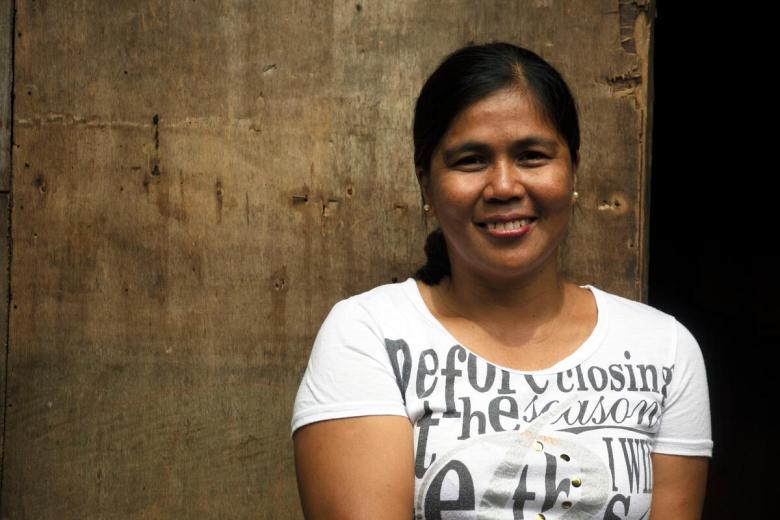 A woman's advocacy: A toilet for every family
Thursday, November 11, 2021
Winning recently as a village councilor, long-time World Vision volunteer Lerma Granadil, 40, aims to make her village a place where each household has a proper toilet. 
"There are households here that until now have no toilets. They do their 'things' on the shore," Lerma explained, pointing at the shore where small fishing boats docked, swaying left and right from the mild waves of Ticao Strait, where Manta Ray is said to be in abundance.
Lerma's coastal community has more than 800 households, making it the fourth largest population among the 63 villages in a town in Sorsogon. She estimated that around 10% of the total households in the village still have no toilets.
Based on reports from World Health Organization (WHO) and the United Nations Children's Fund (UNICEF), 4.5 billion live without a safe toilet and 892 million people still practice open defecation.
The squalid shores in Lerma's neighborhood forced her to do something. "I've been advocating for proper hygiene even before I became a councilor. To have a proper a toilet for each household is not a priority in the past. The practice here is that children grew up with the beach front as their toilet and at the same time bathing area," she shared.
Coming from a family of government personnel --- her mother was a health worker for 30 years and some of her relatives were once village officials --- Lerma knows the importance of hygiene in one's health. Her advocacy was further supported when she became part of World Vision.
Cost of a toilet
Lerma was then a health worker when she first became part of World Vision, which have been teaching parents not only taught how to prepare nutrient-rich food for their children but also proper hygiene and sanitation through its Pinoy Nutrition Hub, a session on health and nutrition to address malnutrition in the community.
"My first activity with World Vision was during a nutrition class where health workers were taught on nutrition and hygiene. I realized then that your advocacy is similar to mine," she said.
The population's health in her village has been Lerma's priority. "Though I've been a health worker, I believe that I can do more if I'm part of the government. I can strengthen or draft health ordinances."
She has been active in various World Vision health-related activities leading to her advocacy to provide each family a toilet. In the fishing village, a family has to spend Php5,000 to have a proper toilet. The amount includes materials and labor. "It is expensive. If you earn less than Php1000 a week and has 5 children, a decent toilet will not be your priority," she explained. 
Pushing for her advocacy, she sought help from people and organization she knows to provide 10 toilets for 10 households at first. "By God's grace, a former health worker who now works in Canada and thru World Vision, I was able to provide nearly 60 toilets for 60 families!"
In 2019, World Vision assisted more than 3 million people globally to have access to dignified and safely managed sanitation.
"The village officials here are very thankful for World Vision for the health programs. You opened our eyes on things that we still need to do in our community," Lerma said.