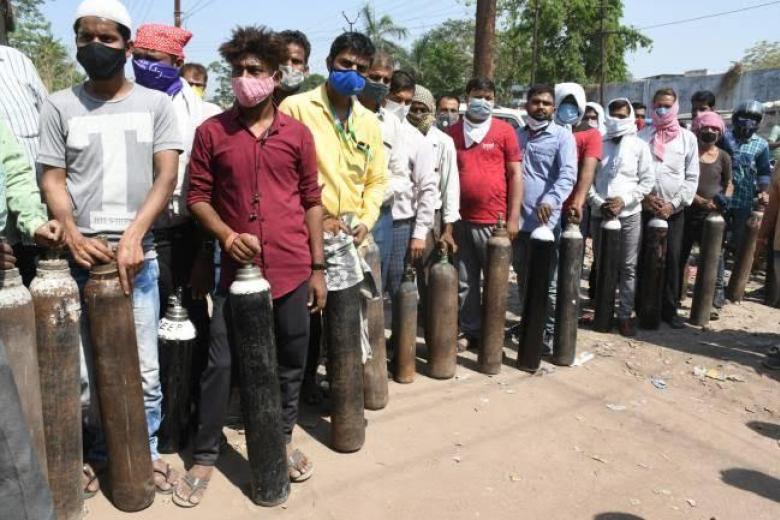 Children fight against all odds to save their father
Friday, May 14, 2021
Anjali, a World Vision volunteer, recounts the story of how she and her siblings fought to keep her father alive as he battled COVID-19 in one of India's hardest hit areas of the second wave, northwest Delhi. In just the first two weeks since the resurgence of COVID-19 in late April, her locality saw an average of six to seven deaths per day. 
Anjali remembers as she sat helplessly as her father, Suresh, struggled for breath. Her younger brothers were needed elsewhere. Krishna, 18, had gone to try and buy an oxygen tank and Akash, 24, was on duty, driving an Uber taxi to support the family, leaving her at home with her mother, Kamlesh, and younger siblings to care for Suresh. 
"My father's hands had turned cold and he was struggling to breathe. My younger siblings were also panicking. I didn't know what to do, so I called a staff member from World Vision India. She sent me numbers I could call for help including doctors; that was really helpful," said Anjali.
 
Anjali's younger brother Krishna had left home to buy an oxygen tank for his father at 10 am only to return after 14 hours. Availability of oxygen tanks is a matter of life and death in Delhi where the second wave has hit hard. He stood in the line with hundreds of others fighting to get oxygen tanks for their loved ones, only to be turned away after 12 hours of waiting when the supply ran out. He was worried about contracting COVID-19 but at the same time was determined to get oxygen for his father. Fortunately, he managed to buy a 5 litre oxygen cylinder from a relative for 10,000 rupees (approximately US$136).
"We had to keep oxygen by all means. My father['s condition] could get serious at any time and we needed a backup," said Krishna. He works at a private hospital as a General Duty Assistant (GDA) [a health-care professional who provides immediate and timely quality care to patients admitted in nursing homes and hospitals], after completing the GDA course with World Vision's support.
 
While waiting for Krishna to return with the oxygen, Suresh's oxygen saturation level dropped to 76, so Anjali took him to a hospital. However, he was refused admittance due to the oxygen shortage. The shortage of oxygen ventilators across India has led to thousands of deaths during the second wave of COVID-19. In Delhi, it has been almost impossible to get hospital beds without any references or connections. The hospital gave Suresh an injection and told Anjali's family to take him somewhere else for treatment. 
 
Anjali explains, "People here don't start treatment until they are very serious, by which time their health had become critical." She bought an oximeter and a thermometer and monitored her father's health at home according to the doctor's guidance. Fortunately, Suresh was able to isolate alone in a room to keep his family safe from contracting COVID-19, a luxury only a few can afford in many parts of Delhi where the entire family shares one room. 
Anjali and her brother's quick thinking and all-out efforts to get oxygen and necessary supplies helped save their father's life. "He is much better now. His oxygen saturation is at 96," said Anjali. 
Support World Visions response to COVID-19 in India and around the world.