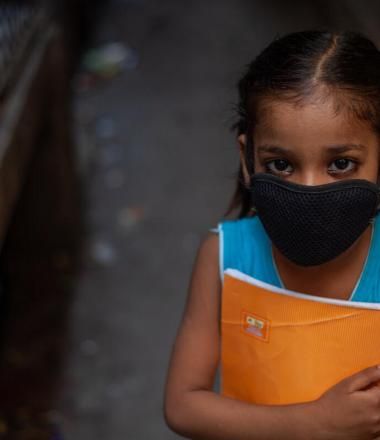 Donate Now
Help us fight the spread of COVID-19 and protect vulnerable children and their communities in India. Select your country of residence from the drop-down menu above. 
India is in a race against time to contain COVID-19
The rapid increase in COVID-19 cases is crippling an already over-burdened health-care system. Hospitals across the country are running out of beds, oxygen supplies in intensive care units, and ventilators, leaving many severely ill patients unable to access any form of treatment. 
If the pandemic is not contained, it will continue to spread from cities to rural areas and increasingly into poor urban communities where vast numbers of people live in crowded homes and settlements and where their health-care provision is weak and often unaffordable for the very poor. 
Vulnerable communities and their children in the poorest parts of India will suffer enormously from a variety of COVID-19 health and economic aftershocks if the pandemic spreads. Millions of people who have already faced economic hardship from the first wave will be tipped into desperate poverty, hunger, and livelihood collapse, especially if family wage earners die. Tens of millions of children are in harm's way. They are at risk of suffering from a range of child protection, exploitation, and health impacts, such as being forced into early marriage, begging, child labour, survival sex, and dropping out of school, as well as hunger, emotional, and psychosocial harm.
World Vision is one of the largest child-focused NGOs in India with vast experience of working with vulnerable communities across the country. It has been deeply engaged in supporting millions of Indians through the first phase of the pandemic. 
World Vision continues to respond and is scaling up to provide support in the face of the health and livelihoods crisis arising from this second wave. It is currently focused on sourcing and providing oxygen equipment, hospital beds, and personal protective equipment (PPE) to grassroots health centres to meet the desperate and urgent need.