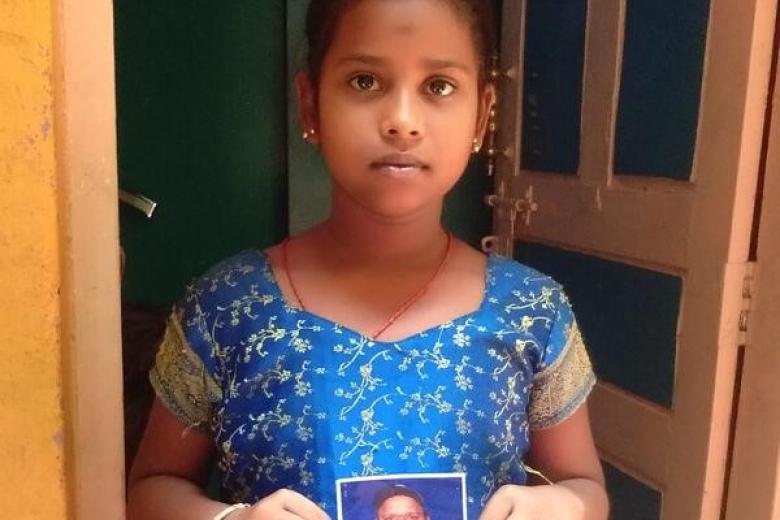 A last goodbye
Tuesday, May 4, 2021
Ashmitha, a 9-year-old in class four, lived with her parents and older sister in one of Bangalore's informal settlements.
Since the beginning of the COVID-19 pandemic in March 2020, all schools in India have been closed for in-person learning, and children have been home schooling. Ashmitha was happy to spend that time at home with her family, even though she had to stay inside the house until her father, Murugan, would return from his work as a day labourer at an incense factory. 
"I used to eagerly wait for it to be evening so that I can go out for a walk with my father. He would buy me snacks and toys some days," said Ashmitha, as she recalled her COVID-19 lockdown experience. But it didn't last for long. Murugan soon started showing symptoms of COVID-19. 
"He started to cough severely, was getting fevers, and was tired often," Ashmitha's mother, Amudhavalli, recounted. As Murugan was the family's only source of income, he didn't talk about about his health issues with his family as he didn't want to worry them. Staying home and self-medicating, he hoped he would recovery quickly. But unfortunately, his condition worsened and he was taken to a hospital where his family was shocked to hear that his oxygen levels and pulse had started to fall drastically.
The hospital they had gone to was full and running short of oxygen, so doctors encouraged them to take him to another hospital where he could receive immediate treatment. However, most hospitals were already overfilled with COVID-19 patients and new admissions could only be accepted when a patient died or was discharged.
Murugan's family took him to 10 hospitals in a day, but were unable to find a single bed available. Finally, after a long search, they found a bed in a government hospital in the city. With no money in hand, Amudhavalli had to borrow 40,000 rupees (approximately US$540) to ensure his admission.
As a day passed, there was a hopeful moment when the family was allowed to visit Murugan's bedside. Another day went by and Ashmitha and her family waited expectantly for news of Murugan's recovery and return home. Yet, just a day later, they received a devastating phone call from the hospital informing them that Murugan had passed away. His loved ones couldn't even say goodbye as government mandates required for him to be cremated directly. 
At just 9-years-old, Ashmitha, can't imagine life without her father. His sweet aroma, lingering from his work in the incense factory, still seemed to fill the house, kindling painful emotions for the family. 
But she clings to her father's last advice as she tries to move forward, "Ashmitha, don't go anywhere outside of the house. You should be careful and stay inside the house these days." She hopes to become a doctor one day so she can help save the lives of those who are sick, like her father.
During the first wave of COVID-19 in 2020, World Vision provided families in Ashmitha's community and across Bangalore with food distributions, face masks, and hand sanitisers. With this second wave hitting hard, World Vision is raising funds to provide oxygen and hospital beds, to save lives. Find out how you can support families across India in their time of need.