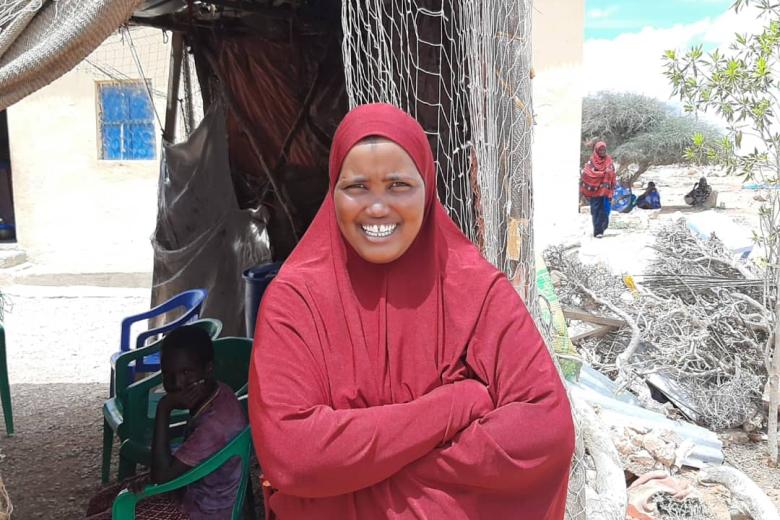 Restoring hope after devastating locust invasions
Thursday, October 14, 2021
Layla Cabdisalaan Cali, a 35-year-old mother of four children (three daughters and one son) is a proud owner of a tea kiosk serving at Garmaal village in the Dangorayo District, Nugal region.
The kiosk is her dream come true, going by what she has achieved so far, ever since she became a beneficiary of World Vision's Cash Transfer-Locust Response project.
World Vision launched the Locust Response project in Puntland (Nugal region) to improve food security through immediate cash-inject assets for protection and livelihood recovery. Objectives of the project include to improve households' immediate access to food, reduce the spread of desert locusts in coordination with communities and government, and strengthen preventive and surveillance measures.
The vast majority of the Somali population depends on agriculture and pastoralism for their livelihoods. Before World Vision started its locust response, Layla's family and her community depended on livestock products (meat and milk) but, after the locust invasion, their livestock was affected and got weak due to lack of pasture. The production of milk and meat was greatly reduced, as desert swarms are uncommonly large and consume huge amounts of crops and forage. 
Layla lost some of her livestock due to starvation. "The locusts devastated our lives; no pasture was left for my 30 goats. They (locusts) fed on all the pasture, leaving the goats with nothing to feed on. Because of this, we were left with no milk, no food, nothing. We were helpless," says Layla.
Since the invasion, farmers have continued to face devastating threats to their crop production. The swarms caused significant loss by eating up crops and other vegetation as well as reduced available pasture for grazing animals. The invasion affected large areas of cropland and pasture, ultimately resulting in severe consequences on agriculture and pastoral livelihoods in a context where food security is already a challenge. But through the cash transfer project, the affected communities managed to turn their lives around.
To support the affected households to immediately access food, World Vision supported 130 households with unconditional and unrestricted cash transfer valued at US$60 (for each household, as recommended by the cash working group for Nugal) for two months. World Vision gave priority to households that were directly affected by the locusts and had limited food stocks, and those with malnourished children.
Layla had a big dream, and that dream came true when she was selected to be one of the beneficiaries by the village committee that worked closely with World Vision. She dreamt of starting a tea kiosk for a long time and when she received a US$60 per month mobile cash transfer to feed her family, she channelled some of the cash to start a business. After receiving all the allocated cash, she was able to continue supporting the family through income from the tea business.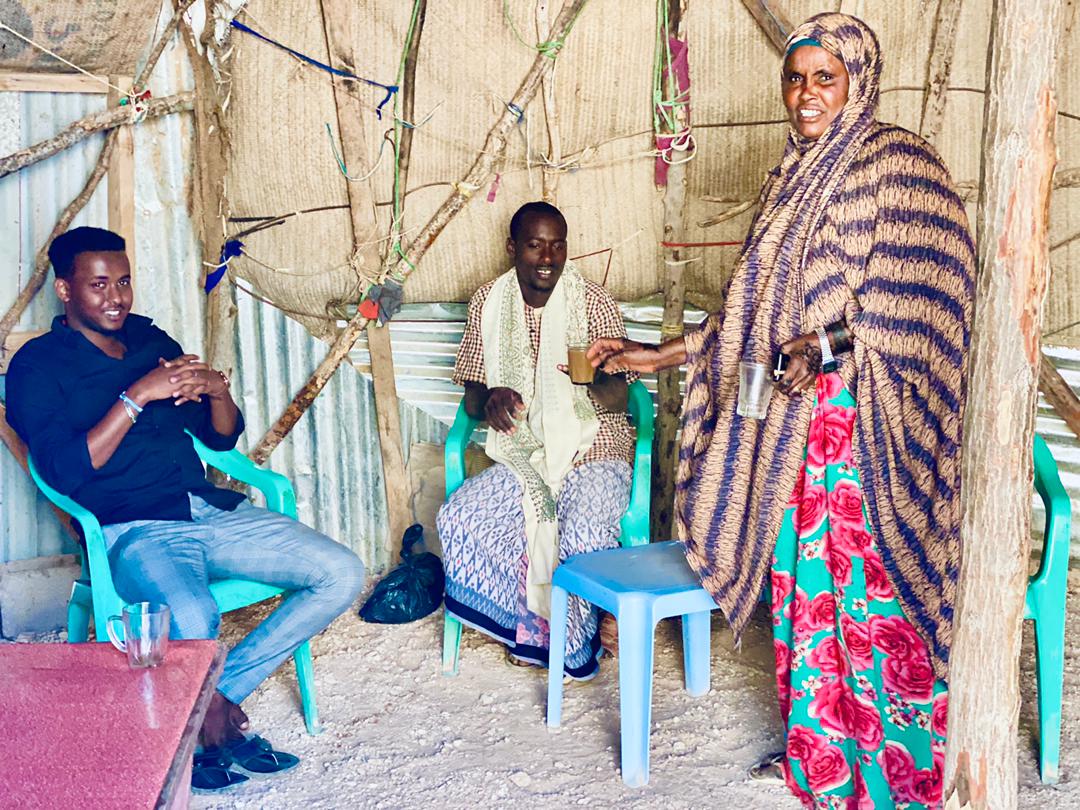 "After receiving the last payment, I set up a tea kiosk. I bought chairs and tea flasks. The kiosk is now running well and provides for my family daily. Today, we are joyful as a family for the future is looking bright for us all. I am grateful to World Vision for supporting us at the right time," says Layla.
"Before that, we would sometimes go to bed hungry," Layla's oldest child chimes in. "But thanks to the cash support, mom can now provide us with three meals a day since she owns the small business." 
In addition to helping families like Layla's, World Vision also supported community leaders in scaling up locust containment operations to avert the renewed threat. Twenty-five& participants including community leaders were trained to sensitise communities on when, where and how control operations take place, and how to protect the health of their families and livestock during locust control operations. 
The cash transfer intervention was very fast, secure, and could be monitored; communities were happy with this modality. For locust control, initially, communities believed that the Bio Pesticides which the Food and Agriculture Organisation (FAO) used to spray the locusts were poisonous. However, after training and sensitisation, community leaders understood that the Bio Pesticides used for locust spraying were safe.
During training, community leaders also accepted the ideology that communities should come together to contain the locusts.